Philippines' world No.1 Dennis Orcullo lived up to his top billing to clinch the 2008 Qatar International 9-ball Open Championship title with a comfortable 13-5 victory over Niels Feijen of the Netherlands in the finals.
With all his compatriots already out of the competition, Filipino pool player Dennis Orcullo was under pressure to perform and he did just that in the final. "All the expectations was on me coming into the final," he admitted. "But I managed to cope it well and did not make any mistake, which enabled me to win the match."
Dennis Orcullo, aka Robocop, who earlier beat Germany's Ralf Souquet, aka The Kaiser, in the semi-finals, was presented with the winner's trophy and a cheque for $40,000 by the president of Qatar Billiards and Snooker Federation Ibrahim Abdul-Aziz al-Sahlawi. Niels Feijen received $20,000 for his effort.
Dennis Orcullo also thanked Filipino fans for their support. "They came in large numbers all throughout the tournament to lend their support. It has been a source of inspiration for me and the entire Philippines contingent."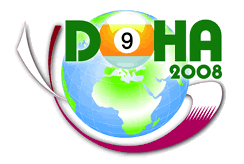 Having convincingly beaten his semi-final opponent Shane Van Boening 11-4 earlier in the day, things looked promising for Niels Feijen, aka The Terminator, as he won the lag. But the Dutchman missed his shot after a break to concede the opening rack. The Filipino did not have a bright start either, as he also conceded his home rack. Both the players lost their next home stretches to remain tied at 2-2.
Niels Feijen suffered his first dry break in the fifth rack which was the turning point of the match as Dennis Orcullo, after playing a safety on the 4 ball, took it and also his next rack to open up a 4-2 lead. And the moment Feijen lost his cool at the match referee for taking more time to set the balls on the table, he lost his momentum. After both the players went back and forth playing safety shots, Feijen missed a 2/3 combination opening up an opportunity for Orcullo. The Filipino duly took it to complete sixth consecutive racks for a commanding 8-2 lead.
Niels Feijen complained later that he lost his focus with the referee taking long to set the table. "He was taking it forever to fix the ball and I was kind of distracted by that. And I was in a lot of pressure with him (Orcullo) piling up one rack after another," he said after the match.
Although Feijen broke and won his next home rack, Orcullo was flawless as he completed a combination shot in the 13th to extend his lead to 10-3. Dennis Orcullo's foul on the break allowed world No. 2 Niels Feijen to win the 14th and then took another to cut the gap down to 10-5. But it was too little too late as Orcollo left the crowd in awe with his brilliant shot-making ability and ball positioning. He followed a successful 1/9 combination shot with another 4/9 to go within a rack from the victory. And when the Robocop cleared the table to win the 18th, he was greeted with a laud cheer from his fans.
Dennis Orcullo believes the title victory will be a big boost going into the next tournaments. "I hope to build on this victory to prepare for my next tournaments," said the Filipino pool player from Surigao, who plans to compete in World Cup of Pool and Guinness Asian 9-ball Tour – both taking place in October.
Niels Feijen was disappointed on not repeating his semi-final performance. "I played well in the semi-final win in the other room. But I was unable to carry that form in to the final," Feijen said. "But I wouldn't like to take away anything from him; he played brilliantly in the final," he added.
The nine-day Qatar International 9-Ball Open tournament drew more than 150 players, including several world champions, from 40 different countries.
Results: Semi-finals: Dennis Orcollo (PHI) bt Ralf Souquet (GER) 11-8, Niels Feijen (NED) bt Shane Van Boening (USA) 11-4 Final: Dennis Orcollo bt Niels Feijen 13-5.



*Did you enjoy the post? Did you find it interesting?
You know what to do...:)