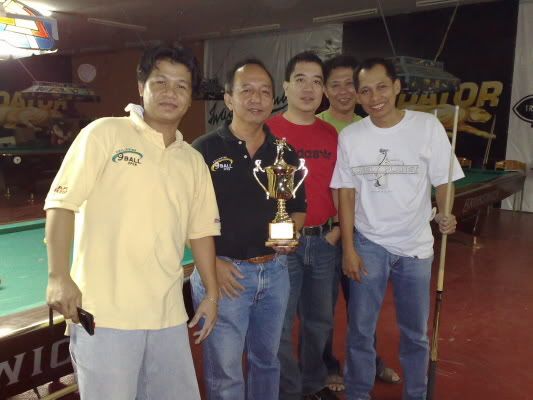 Champion

Uly Catanghal

and 1st Runner-Up Mike Salazar
with Vic Trinidad, Roy, and Rene Sia
Congratulations to my billiards buddy, Uly Catanghal, for winning the July 11, 2008 Open Tournament of the

YOung and the Young Once Billiards Club

(YoYo) at the

Hobbies of Asia

billiards hall!
'Twas an exciting finals match as Uly bagged the championship trophy and Php1,000 first prize via a shut out! Yes, you've read right, friends - it was an amazing shut out run by the well-liked founder of the

YoYo Billiards Club

!

And I kid you not!
Drinks and food overflowed as Uly treated everyone to their heart's content after that unforgettable win! Again, congratulations Uly for winning the championship!

Mabuhay!
"Immortality! The AnitoKid!"


*Did you enjoy the post? Did you find it interesting?
You know what to do...:)