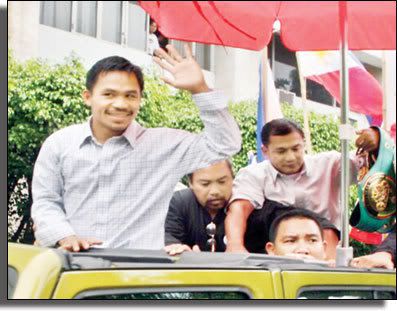 I just found an interesting read about Filipino boxers Gabriel Flash Elorde and Manny Pacquiao, aka The Pacman. Written by Ronnie Nathaniel, the piece dwells on another aspect of the Filipino boxers – not fame nor fortune nor glory – but something far more important – something that truly defines the true measure of a man.
Without further ado, here is the Ronnie Nathaniel post in its entirety.I hope you enjoy the article as much as I did, friends. It is one very good read! And I kid you not!

Pacquiao Surpasses Elorde
By Ronnie Nathaniel
FOR years, we have stood firm in our assessment that the late Gabriel "Flash" Elorde, a beloved friend, who was one of a kind, was the greatest Filipino boxer of all time.
That assessment was based on his achievements in the ring, where he reigned as junior lightweight champion of the world for almost seven-and-a-half years and fought the best in his division.
But more than that, it was cemented by the remarkable human qualities of the man. Aside from being a good and loving husband to his wife Laura, he was an exemplary father to his children. Beyond that, he was caring and kind to those, who sought his help and never did his good deeds under the glare of television cameras or alongside reporters and photographers.
He was, to his last breath, a good and decent man, who was deeply religious not because he was scared of his God, but because he loved Him deeply.
Elorde built the Saint Rita Chapel in Sucat, Parañaque, where he actually helped in the construction alongside the workers and later heard mass on a daily basis often serving as an altar boy.
We remember that when he used to do his roadwork along the old Sucat Road, which was nothing but a gravel road with cogon grass on either side and cattle and carabao roaming around or ran along the stretch of Roxas Boulevard from near the US Embassy, all the way to the end of the boulevard, he would end his workout by praying in the Baclaran church.
Perhaps, his only disappointment in his all-too-short life was the fact that he failed to produce a world champion, which was his fervent wish. There was a time when Elorde thought that William Develos had the potential to become a world champion, but his promise was unfortunately never fulfilled.
One of the other commendable traits of Elorde was that he never put another fighter down for whatever reason. In fact, he would encourage them in the face of tremendous odds, never to give up and to face the challenges before them with discipline, hard work, dedication and strength of will. Above all, he used to often remind them of putting their faith and their fate in God.
When such fine fighters and friends like Rene Barrientos, Ben Villaflor and Rolando Navarette won the world junior lightweight title, after he had lost the crown to Yoshiaki Numata of Japan, Elorde was happy and proud over the achievements of his countrymen. He found joy in the success of others. This was the measure of the man.
There were scores of young men, who came to the sprawling sports complex he built wanting to become boxers and to emulate his achievements. Whether they had the potential or not, Elorde and his wife Laura never turned a boy away. If they couldn't fight, they would give the boys some job in the sports complex or in their home. Such was the kindness and compassion with his heart.
When he passed away, our nation wept as one because Elorde was a quintessential Filipino, proud of his country no matter what the outside world would say.
It was these virtues, the values in life he lived by and his achievements in the ring that not only endeared him to his countrymen and won the respect and admiration of the men he fought and the fight fans who watched him fight, that elevated Elorde not just to the Hall-of-Fame but saw him enshrined in the hearts and minds of millions of Filipinos.
Today, there is a new hero who hasn't necessarily surpassed Elorde in terms of our respect and admiration, but has surely reached, in the ring at least, greater heights—Filipino ring idol and national treasure—Manny Pacquiao.
Pacquiao has quietly but quickly changed his lifestyle from his wild and wooly ways, which must surely be the result of his inner strength and the prayers of many, who care for him and admire him.
"The AnitoKid Pacquiao & Elorde!"


*Did you enjoy the post? Did you find it interesting?
You know what to do...:)