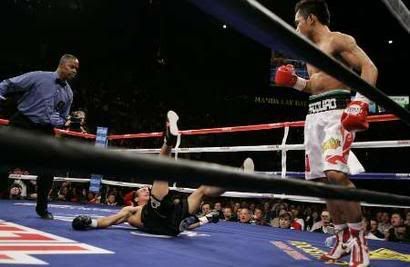 Everyone is very excited about the upcoming fight between Filipino boxer Manny Pacquiao and David Diaz of the United States, which will be held at the Mandalay Bay in Las Vegas, Nevada, on June 28, 2008! And rightfully so!
Manny Pacquiao has won his last seven consecutive fights and many believe that he is stress-free, e.g., Pacman not having to go through major dieting for the higher 135-pound limit of the lightweight division. In his last bout, March 2008, he had to hold food intake to make 130 lbs for the title fight against WBC super featherweight champ Juan Manuel Marquez.

According to Manny Pacquiao, he is comfortable in the heavier weight class, adding and believing that the few extra pounds on him will give even more power to his punch and do more damage. However, he is still very much on his toes for surprises coming from David Diaz, a southpaw like him.
A quick glance on the boxing career of David Diaz reveals the following:
David Diaz won the 135-pound championship in 2006;

In 2007, he beat Erik Morales to defend his title.
Boxing experts are unanimous in saying the Filipino boxer is the heavy favorite. Still, David Diaz will not be an easy opponent in my book. Or in anyone's book, mind you!

I'm glad to hear that Manny Pacquiao is all set and ready for glory and immortality, and is on his toes for David Diaz - truly showing his respect for the Mexican champion.

"The AnitoKid loves Manny Pacquiao!
"
*Did you enjoy the post? Did you find it interesting?
You know what to do...:)