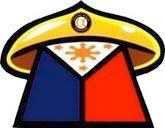 Friends, it has been one full year of blogging fun for

The AnitoKid!

I have been so blessed to have realized so many firsts and milestones in my newest passion. The most important of these is the new acquaintances I've made, fellow bloggers, most of whom have become my friends in real life. it has also served as a medium to find old friends and family, and rekindle the friendship and bond. Day after day, this passion, whic
h I affectionately call blogging art, continuously enriches my life with newfound knowledge, laughter, friendship, and love.

And guess what? I just received a couple of nice surprises! My site has been officially linked by Inside Pool Magazine, one of the premiere billiards magazines on the market today AND one of the best online resources on everything related to pool! But wait, there's more! Predator, which leads the billiard industry's technological evolution and manufactures the most technologically advanced cues in the world, has also officially linked my site to theirs!
We are the first blogger to be officially linked by both Inside Pool Magazine and Predator! It's another first! Talk about wonderful presents for our first year anniversary! And I kid you not!



And oh! Least I forget, we still have to announce the winner of the AnitoKid Anniversary Review! Much thanks to those who joined the contest! We received a number of high-quality entries, but one clearly stood out among the rest, i.e., the post made by

Manila Mom

at her Earn Global Online site. The entry was further supplemented by another review at Manila Mom's main site. Both reviews generated a number of interesting thoughts, particularly the one at Earn Global Online, which made me realize my blessings even more. Congratulations Manila Mom!


And as a final thought, my friend over at The Broken Bow asked for my views on everything that happened in my first year as a blogger. Well, I guess the thoughts that I shared with all when I received the Top 10 Emerging Influential Blogs of 2007 award sum it all up:


"What does this mean to me? That some believe in what I say? My thoughts? My views?

That I am doing something right? Whether I write about sports or athletes, or blog on Philippine culture and pride, or question the real intentions of those in power, whether or not they still believe in public service - and to set the record straight?
That the countless comments and emails I receive daily are worth reading, publishing, and responding to? Each and every one of it? Each and every single day?

That it stands to reason that all the persons who voted for me, the 9,000+++ (24,000+++ now) bloggers from 100+++ (currently stands at 139) countries who have visited my site, the thousands who have left a comment or two, did not waste their time, liked my my site, or found something interesting in it?
At this point in time,

my wish

is that this award, this recognition, will serve as an inspiration to my beautiful children, that my kids will know the importance of taking the time and effort when working towards a goal; that nothing is impossible, that anyone can achieve anything if they just put their heart and soul into it; and that life is beautiful and full of surprises, that one can never go wrong in life when they count their blessings and share such with our misfortunate brothers and sisters, sons and daughters.
I have said it before, please allow me to say it again,

"My sons, my daughters, you are the reason for my being, the only reason why I try to accomplish so much in so little time. You are my closeness. My soulmates. This and more mga anak ko'y. All my love."

Much thanks to all fellow bloggers, friends, readers, and online buddies from around the world! Thank you for the interesting reads and the wonderful comments! Thank you for the support! And much thanks for the friendship! Maraming, maraming, maraming, maraming salamat po! Mabuhay!

Some of the AnitoKid's firsts :)
Much thanks to all!



"'Twas a fabulous year with The AnitoKid!"

*Did you enjoy the post? Did you find it interesting?
You know what to do...:)