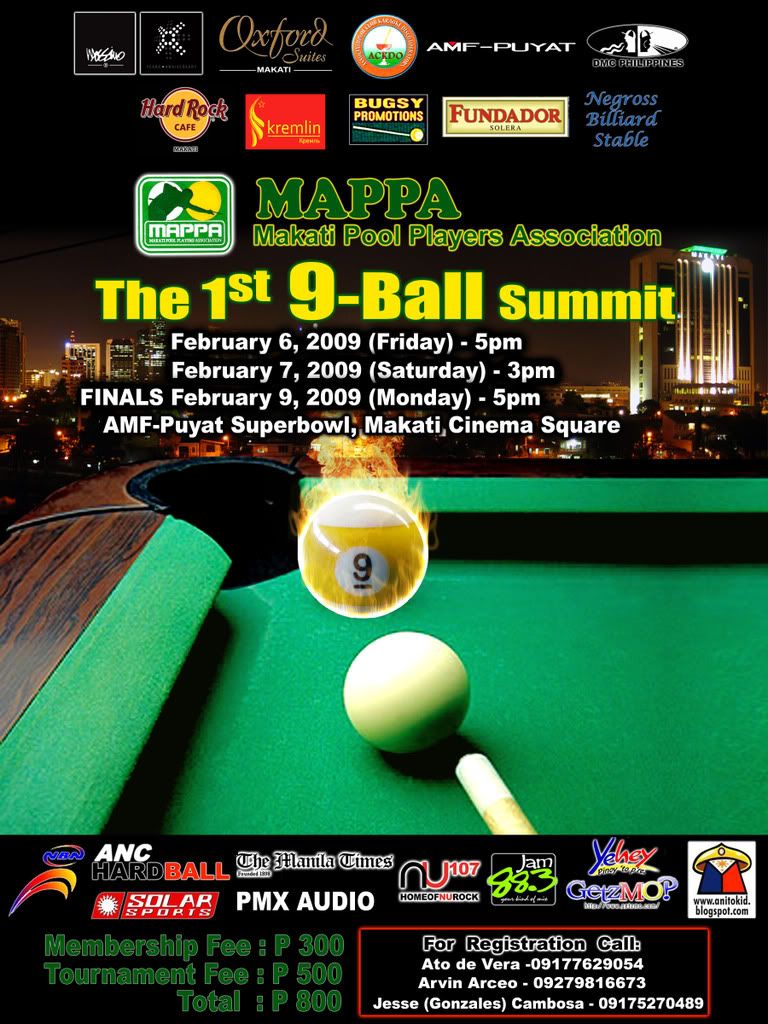 Billiards

buddies and pool players, come February 6, 2009, a new era in 9-ball competition will unfold! It's the

Makati Pool Players Association

's (MAPPA)

1st 9-Ball Summit

!

Led by its newly-elected president,

Jesse Cambosa

, MAPPA is ushering in the 1st 9-Ball Summit for all amateur pool players in the Pool Capital of the World! With major sponsors and all, the competition is sure to be red-hot with prizes and surprises awaiting both winners and participants!

Food galore and overflowing drinks (Fundador & iced tea) are the order of the day on February 6! Plasma TV's will also dot the landscape of the

AMF-Puyat Superbowl

, while lovely usherettes will assist anyone, and everyone, entering the tour! And yes, some of the country's top pool players will also be there, too! But wait, there's more! Did I tell you that it will be

live TV coverage

on opening day and the finals?

YES, IT WILL BE!

And I kid you not!



Fun. Excitement. And more! Come one! Come all! Experience 9-ball competiition like you never did before!





Mabuhay ang MAPPA!
Mabuhay ang bilyar!
Mabuhay ang manlalarong bilyarista!