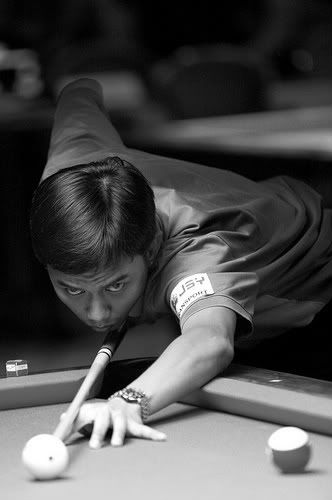 Congratulations to Filipino pool player Lee Van Corteza for winning the 1st-ever

Fatboy 10-Ball Challenge

at the

11th Annual Derby City Classic

! Playing at the Accu-Stats table, Lee Van Corteza, who plays for the

Negros Billiard Stable

, did not make a ball on the break against Ralf Souquett until his 8th break, friends!

Ralf Souquet

eliminated Francisco "Django" Bustamante, 15-10, to get to the finals of this exciting event. Mika Immonen and Francisco Bustamante each won $2500 for placing 3rd.

The Kaiser showed seemed not to be at ease on the table and wasn't in his usual rhythm. Ralf Souquet only held the lead once during the match, 3-2, and Lee Van Corteza dominated easily. The first break and run-out occurred in the 19th rack – at 11-8 – courtesy of Souquet. However, Corteza was not to be denied and bagged the $10,000 prize with an impressive 15-11 victory! Awesome win, bro!

And I kid you not!




Congratulations to my online buddy,

Eric aka Fatboy

, for a successful tour! Way to go, buddy!
"The AnitoKid loves the DCC!"