Round Three
of the
2008 Derby City Classic
Banks Division is complete and round four is underway. A number of

Filipino pool players

beat their respective opponents in the first round of this grueling event, which was participated in by 450

pool players

! The Filipino pool players I'm talking about include

Efren Bata Reyes

, aka

The Magician

over

David Williams

,

Alex Pagulayan

, aka

The Lion

over

Steve Hickman

,

Rodolfo Luat

, aka Boy Samson over Danny Smith, and

Jose Parica

, aka

Amang

over

Niels Feijen

.

And oh! Here's a read I just found on

Jose Amang Parica Jr.

, the Filipino pool player who initiated

The Filipino Invasion

. The article was written in May 2003 by my kabayan,
Val. G. Abelgas.
IT IS

an interesting read! And I kid you not! Enjoy!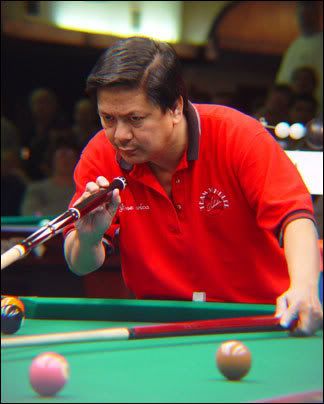 Filipino pool player Jose "Amang" Parica had to pull a stool every time it was his turn to make a shot when he first played billiards at his father's billiard hall in Blumentritt, Manila back in the Philippines. Amang Parica was just 7-years old when he first struck a cue ball with a cue that was much longer than he was, on a billiard table that was just as high as he was. Parica literally grew up with a cue in his hands.
Forty-three years and more than 100 championships later, Jose Amang Parica is still literally living in the world of billiards, still slugging it out with the best of them. Less than a week ago, Amang Parica proved once and for all that he is still one of the best players in the world, in a sport he has dominated in the Philippines in decades, and in the world for more than a decade. He won the $40,000 First Western Open 9-Ball Championship at the Crystal Park Casino and Hotel in Compton, beating Francisco Django Bustamante in a thrilling finals, 15-12.
At 50, Jose Parica should have been playing in the seniors tour, if there is one, but he continues to dominate much younger players from the Philippines, the United States, and the world. Amang Parica sharpened his skills in the billiard halls his father owned in Blumentritt and in Sta. Cruz in Manila. Soon, he was beating much older guys. He had won all the tournaments that had to be won in the Philippines, but Amang felt he still did not earn the recognition he felt he deserved. Finally, in 1975, he got his break.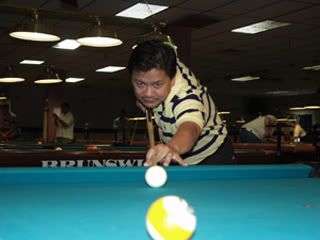 A Japanese billiard player and promoter was looking for a Filipino player to compete in a tournament in Japan, and went looking for a guy known only as "Amang." Word got around fast, and soon Jose Amang Parica was on his way to Japan for his first major tournament outside the Philippines. By then, Parica was already 25. He bagged fourth place in the Tokyo International Open that year, and got invited to the tournament every year.
In 1976, Parica, hoping to get a better deal for Filipino billiard players, organized the Philippine Pocket Billiards Association. He became its first president. In 1978, Amang had enough sponsors to compete in his first-ever tournament in the United States, the World Open Straight Pool Championship. He was the only Filipino in the tournament and got the attention of the billiard world by placing in a tie for 9th to 12th places.
Jose Amang Parica competed under the Men's Professional Billiards Association for years, but did not win a U.S. title until 1986, when he won the World Open 9-Ball Child Cypress in Lexington. Amang followed it up with a victory in the World Classic Cup title in Aurora, Illinois. In 1987, Parica went back to the Philippines to display the new skills he had learned from the world's best players, and to encourage Filipino players to compete in the prestigious and financially-rewarding U.S. billiard circuit. Jose Parica had blazed the trail, and had actually paved the path with gold by gaining respect for Filipino pool players. He wanted other Filipinos to follow the trail to world success.
Soon, Filipino pool players Efren Bata Reyes, Francisco Django Bustamante, Rodolfo Luat, and Leonardo Dodong Andam joined Amang Parica in lording it over the American circuit. Without realizing it, Parica had led what American billiard aficionados call the "Filipino Invasion."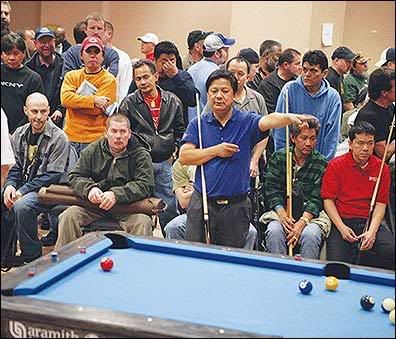 Jose Amang Parica has won close to 100 tournaments in the U.S., 13 in Japan, and three in the Philippines (all Philippine Open in 1980, 1989 and 1992). In 1988, Parica dominated the Japanese circuit, winning the championship in eight of nine tournaments he competed in, and placing second in the only tournament he did not win. The same year, he won the biggest and richest tournament ever by beating arch rival Efren Bata Reyes in the finals. The tournament, played in Tokyo, had 900 players and had a total purse of $900,000. That year, Amang Parica had total winnings of $289,000.
He won three more tournaments in 1989, but the star of Efren Bata Reyes was beginning to shine brighter than his. As The Magician began to shine, Amang Parica began to fade. In 1994, Parica married Aurora and retired from active competition. He had a lot of savings from his billiard earnings, and he decided he did not want to travel constantly anymore.
Jose Amang Parica was content with playing billiards privately and wading in the pool of his 5-bedroom house in West Covina, until one day, while they were in Las Vegas, Nevada, Aurora overheard a Filipino say Efren Bata Reyes is the best Filipino player ever, and that The Magician could beat any Filipino, including Amang Parica. Efren Reyes had been named Player of the Year in 1995.
Aurora
told Amang what she heard, and convinced him to play competitively again, just to prove that he is not yet over the hill. Jose Amang Parica took it as a challenge and as a go-signal from his wife to resume his suspended billiards career. In late 1996, Amang Parica resumed playing in the U.S. circuit. He lost twice to Efren Reyes that year, and also lost to American ace Johnny Archer, who emerged Player of the Year in 1996. But Amang still managed to win four tournaments that year, against Efren Reyes' three.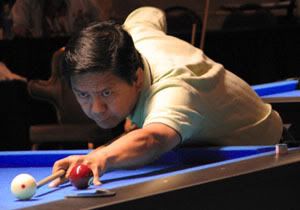 Jose Amang Parica showed his fighting heart by coming back in 1997 to beat Efren Bata Reyes six in a row, and Johnny Archer seven times. He won five tournaments that year and emerged No. 1 in world ratings. Amang Parica proved he was still among the best in the world by being chosen Player of the Year in 1997 by three award-giving bodies — the Billiards Magazine, Billiards Digest, and the Camel Pro-Billiards Series, the richest and most prestigious circuit in the U.S.
Jose Parica and Efren Reyes faded again in 1998, as the rising Francisco Django Bustamante dominated the circuit, by winning three of the Camel Circuit's eight legs, and placing second in two. Django Bustamante won the Player of the Year honors that year.
After three tournaments in the Camel Circuit, Parica is running ninth with 130 points, while Bustamante is sixth with 170 points. Efren Bata Reyes, who missed one tournament when he represented the Philippines in Brunei, was way below with 80 points. Reyes, however, is expected to come back strong after winning the World 9-Ball Open in London in early August.
Jose Amang Parica finished in a tie for 7th and 8th in the first leg in Kansas, 13th in Atlanta, and 32nd in Las Vegas, which Efren Reyes missed.
With his convincing victory in the Compton event, where six of the seven Filipinos who competed finished in the money list, Jose Parica is one of the players to watch in the next leg at Nashville, Tennessee starting Sept. 14, and later at the prestigious U.S. Open in Houston, Texas on Sept. 25-26.
After 43 years of playing billiards and more than 100 titles tucked under his belt, Jose Amang Parica doesn't even look close to retiring soon. You can look deep into his eyes, and you'll probably see the 8 and 9 balls inside.
"The Filipino Invasion with The AnitoKid!"
*Did you enjoy the post? Did you find it interesting?
You know what to do...:)