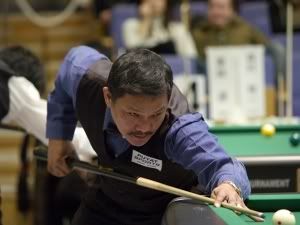 Filipino pool player Efren Bata Reyes, aka The Magician, annihilat
ed Paul Potier of Canada with a 11-1 score to advance to the quarterfinals of the

40th All Japan Championship

in Amagasaki-shi, Hyogo prefecture, Japan.
The 1999 World Pool Champion, Efren Reyes aka Bata (The Kid), set an exciting showdown with Wu Chia-ching, one of Taiwan's billiards masters and 2005 World Pool Champion. Wu Chia-ching shocked defending champion Lee Vann Corteza at 11-6.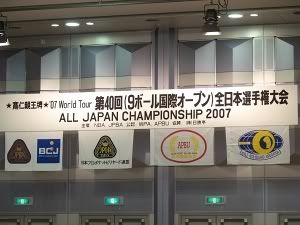 Other Filipino pool players who saw action but failed to progress at the 40th All Japan Championship include Warren Kiamco, who bowed to 2004 World Pool Championship runner-up Chang Pei-wei at 11-10; Francisco Django Bustamante, who suffered his second loss against Yang Ching-shun; and Ramil Bebeng Gallego, who succumbed to 1996 World Pool Champion Ralf Souquet, aka The Kaiser.
The quarter finals now bills Efren Bata Reyes, Wu Chia-ching, Chang Pei-wei, Ralf Souquet, 2001 World Pool Champion Mika Immonen, and Japan's T. Kuribayashi, H. Hijakata and M. Tanaka. It promises to be one exhilarating showdown! And I kid you not!
The best of luck to the Magician!
Champion: JPY2,000,000
2nd: JPY1,000,000
3rd-4th: JPY500,000
5th-8th: JPY250,000
9th-16th: JPY125,000
17th-32nd: JPY60,000
Other interesting reads

Magician Reaches Quarter Finals of JPBA

Corteza, Reyes Whips Foes
Three Filipinos Unscathed in All Japan Pool
On the hill (in Japanese)
Bata, Corteza, Kiamco Win Openers
Pics on the JPBA Men's Bracket
Pics on the JPBA Women's Bracket
JPBA Official Site
YouTube Videos on Billiards and JPBA
"Pocket billiards is best with The AnitoKid!"
*Did you enjoy the post? Did you find it interesting?
You know what to do...:)