For billiards friends and pool players looking for a great pool cue case, now's your chance!
One of my billiards buddies, Sygfrid Santos, asked me to help him sell his Instroke Leather Cowboy pool cue case! It's one beautiful case, everyone! And I kid you not!
From Sygfrid Santos:
I'm selling my new Instroke 2x4 Leather Cowboy black/brown because I need another cue case with more capacity. The leather of this Instroke pool cue case is very smooth and very luxurious!
This Instroke case retails for $287-359 (P13k-16.5K) excluding local Customs taxes (P3k or $65) and international shipping ($120 or P5.5k via UPS world saver).
I will also be including one of my personal cues, the PINOY CUE, which is worth (P5.5k). I'm willing to let everything go for ONLY P14,500 firm.
If you're interested, text me at 0919-556-4000 (Sygfrid Santos).
INSTROKE LEATHER COWBOY 2x4 BLACK/BROWN CASE:
Introduction of the "Original" Instroke Leather Cowboy cue case set a new standard for custom billiard cue cases. A testimonial to the popularity of this case with players, it is the most copied case by manufacturers around the world.

Instroke Handcrafted Leather cases include the following features:
The Instroke Leather Cowboy cue case is as rugged as it is attractive. A tough specially treated cowhide is used, giving them extra resistance to scratches and dirt.
Instroke cases offer maximum protection for your cue investment. Instroke cases have a solid core designed to protect your cue from impact, moisture and temperature changes.

Only the finest quality leathers available are used on every case.
Linings are made with moisture and tear resistant materials.
High-impact plastic tubing for greater protection.
Industrial strength rivets used throughout.
2 Large external pockets.
The larger pocket also has a separate zippered compartment o­n the left side to hold the butt of a jump cue (Up to 15" in length).
Extra long to hold cues up to 64" length (If shaft & butt are equal length).
Cue butts can be loaded joint up or down.
Side and top handles.
A comfortable shoulder strap.
Easy access to cues.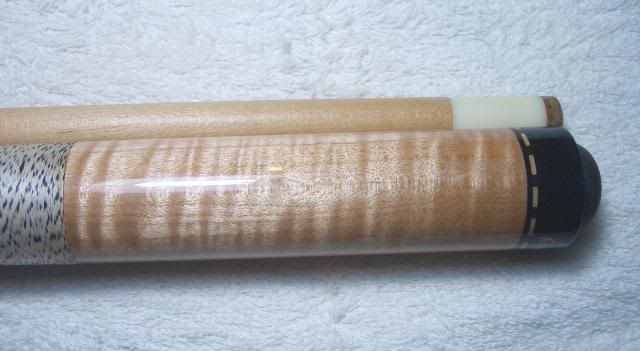 PINOY CUE
Available only in Malaysia, this simple yet elegant pool cue for sale has a great balance, feel, and good playability thanks to the high quality of curly maple used and the absence of inlays and other "decorations" that hinder the transfer of energy from the cue to the tip due to the presence of glues that act as dampeners . I love how smooth the wrap feels, just like a custom cue!

The beauty of this cue comes from the natural holographic-like patterns of the Curly Maple wood. Although I normally use 19oz custom cues, the weight difference with this pool cue barely noticeable because of its great balance.
Shaft Weight: 3.95 oz
Butt Weight: 13.51oz
Total Weight: 17.425oz
Length: 58"
Tip: Talisman, 13mm
Shaft: Solid Hard Rock Maple
Joint Pin: 5/16x14, Stainless Steel
Joint: stainless steel, non-piloted
Forearm: Curly Maple
Wrap: White with Black specks Irish Linen
Forearm: Curly Maple
Finish: Urethane
Rings: Maple-Ebony at E
Joint Protectors: Stained Curly Maple with Malaysian Redwood
Condition: Mint, only used for test hits. There's a tiny internal mark that looks like a chip at the edge of butt cap near the logo. Nevertheless, you won't be able to feel this and the finish is left unaffected.
"The AnitoKid loves Instroke!"
*Did you enjoy the post? Did you find it interesting?
You know what to do...:)