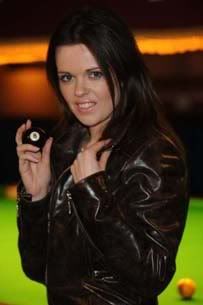 Pool players call Lynette Horsburgh "The Wee One". A size 6, Lynette Horsburgh stands barely five foot in high heels and thick woolly socks. And oh! She buys her white shirts from the boys' 11-12 range!
Petite does not quite cover it! But the Blackpool lass more than makes up for her lack of size with a steely determination, a keen eye, and a silky-smooth cue action. The beautiful Pocket Rocket, who is a web producer for the BBC in Blackburn, coasted to the Foster's World 8-Ball Ladies' Pool title against opposition coming from as far away as Australia and South Africa!
Here's a quick background info on the female pool player, friends! Lynette Horsburgh was number two in the ladies' snooker world rankings before deciding to focus on pool about four years ago. When she started playing as an 11-year-old at the Commonwealth Club in Blackpool she had to wear roller skates so she could see over the table! And I kid you not! Her highest break? 135! Her partner is Karl Boyes who came third in the World 9-Ball Pool championship in Thailand last November.
Lynette Horsburgh played regularly in the North West Small Table snooker tournament, mainly for Blackpool teams, and later with the Black Bull from the Blackburn with Darwen League. The Wee One helped them into the semi-finals a couple of years back and a few weeks ago she teamed up again with players, e.g., Gaz Hampson, Andy Maudsley, Mark Jennings, Harold Heys, and Dave Fleming as guest of honor at this year's end of season presentation night at Quattro's, Blackburn, for their new team Feniscowles.
And lest I forget, Lynette Horsburgh's nickname is Spinney (pool players say her head is always in a whirl!



"The AnitoKid supports female pool players!"


*Did you enjoy the post? Did you find it interesting?
You know what to do...:)