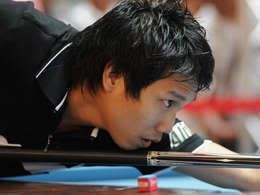 2004 World Pool champion

Alex Pagulayan

, aka The Lion, defeated compatriot Dennis Orcollo with an 11-6 score to bag the Singapore leg of the Guinness 9-Ball Tour!
Alex Pagulayan's victory earned him the top prize of US$15,000 top prize while the world's number one pool player, Dennis Orcollo, who entered the tournament as a wild card bet, got $6,000. Incidentally, the win also ended the Chinese Taipei stranglehold on this year's Guinness 9-Ball Tour.
The Chinese Taipei players previously dominated the Tour as they swept all six legs last year and this year's first three legs, which were all won by
Chang Jung-Lin, who swept all six legs in 2007 and this year's first three ones, was booted out of the competition by Filipino pool player Dennis Orcollo in the group stage.
Other interesting notes:
The last time a Filipino pool player won a title on the Tour organized by ESPN STAR Sports was in 2006. It was when Efren Bata Reyes, aka The Magician, beat Ricky Yang in Jakarta, Indonesia.
This also marks the first time since Lee Van Corteza defeated Francisco Django Bustamante in Manila in 2004 that two Filipino pool players battled for the championship.
Not counting an exhibition match in Guangzhou match in 2006, Alex Pagulayan's victory gave the Philippines a 13-12 advantage over Chinese Taipei in the number of titles won since the Guinness 9-Ball Tour started in 2003. No other country has won on Tour.
"The AnitoKid is a Leo!"


*Did you enjoy the post? Did you find it interesting?
You know what to do...:)