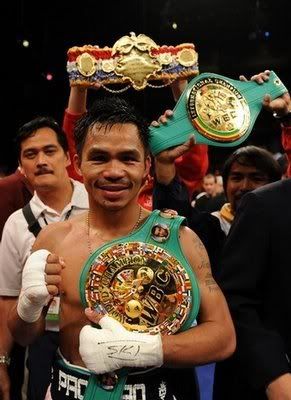 Lethal Combination
,
the Manny Pacquiao vs. David Diaz title bout held at the Mandalay Bay in Las Vegas, Nevada, drew close to 250,000 hits on pay-per-view! The crowd attendance during the fight held at the Events Center of Mandalay Bay was pegged at 8,362 out of a seating capacity of 12,000.
Even though the numbers paled in comparison to the 400,000 hits generated worldwide by Filipino boxer Manny Pacquiao's 12-round showdown with Juan Manuel Marquez on March 2008, the statistics are still very impressive! Lest I forget, the sales reached over $20 million!
And did you know that the Pacman's three classic fights with Erik Morales drew a combined sales of 1 million pay-per-view hits! And I kid you not!
Each hit is worth $49.95 and with close to 250,000 hits sales would reach around $12.5 million. After HBO and Top Rank get their share, the boxers will get theirs depending on what's stated in the contract.
And it goes without saying that Manny Pacquiao, the main draw, will get the lion's share!
Top Rank Promotions President Bob Arum is still hoping to find a Las Vegas venue for the planned November 8, 2008 boxing match – Manny Pacquiao vs. Edwin Valero, the Venezuelan knockout artist.
Bob Arum was informed that the MGM Mirage group cannot accommodate the fight because of two big promotions around the date Arum wants, i.e., the November 22 fight between Ricky Hatton and Paul Malignaggi and the December 6 farewell fight of Oscar dela Hoya. Both fights are set at the MGM Grand, and officials believe that it is not a wise decision to bring in another promotion involving Pacquiao around those dates.