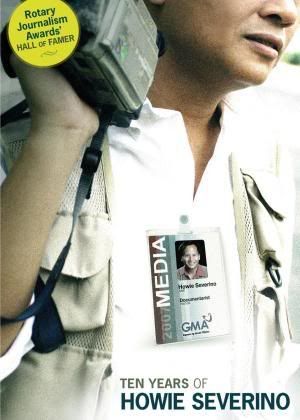 Me and My Closeness were at the Powerbooks store in Greenbelt, Makati City, to attend the soft launching of journalist Howie Severino's DVD, "

10 Years of Howie Severino

," which marks and celebrates his 10th year as a documentarist. On the way to Powerbooks, the straps of my closeness' brand new sandals broke! Fortunately, we were at Landmark's shoe section. I asked my daughter to pick out a new pair. However, she insisted that we go ahead to the launch before buying the new threads. "Dad, we might miss the signing! Let's just buy after the event," she said. I explained to her that we had plenty of time, but still, she wouldn't have none of it. Imagine that! Did I tell you that she's also a big fan of Howie? Yes, she is.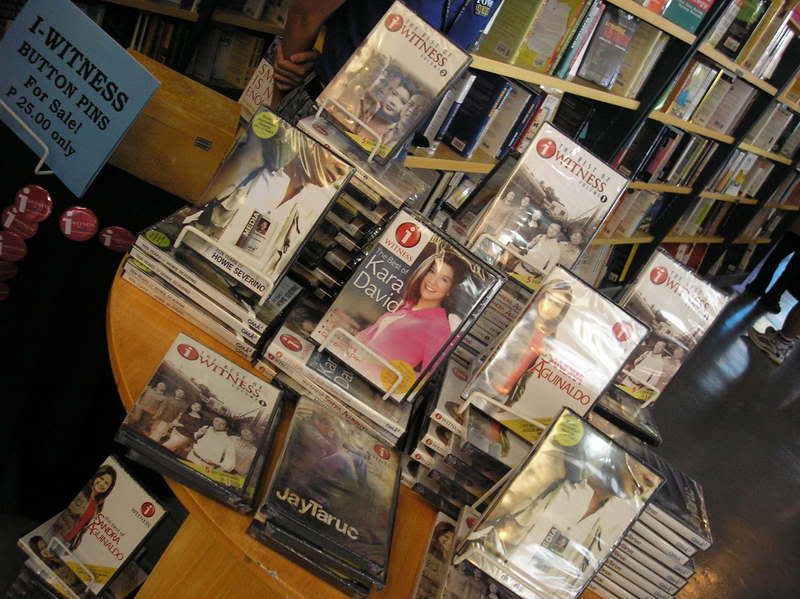 The GMA documentary collection
A good number of people attended the launch. Me and My Closeness were hesitant to approach the table. Why so? Well, that's Howie Severino! And
Sandra Aguinaldo! And Kara David! and Jay Taruc! O, sa'n ka pa?

The Rotary Journalism Awards' Hall of Famer is a father, a journalist, a documentary maker, a travel writer, mentor, a patriot, a pilgrim, and a blogger. Howie was also a grill cook at McDonald's, pretzel vendor at the Boston Common, and newspaper delivery boy before he became a household name.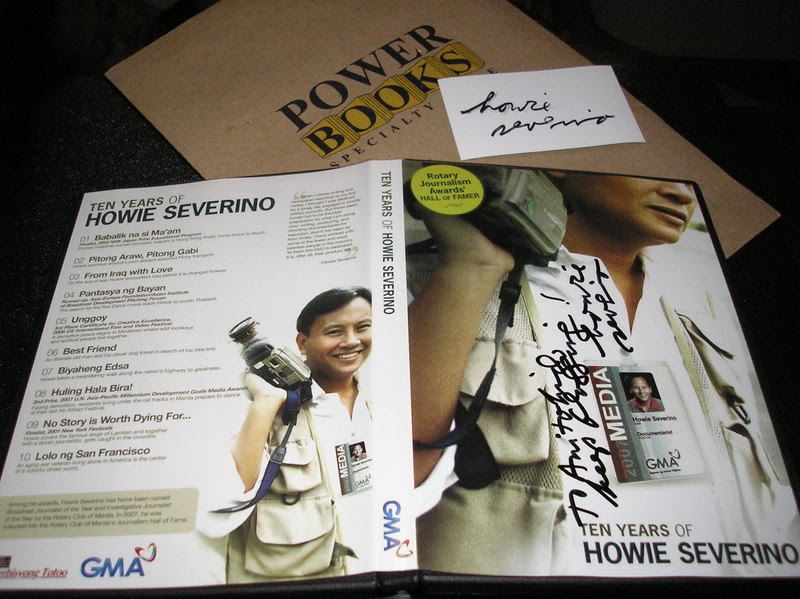 The "Ten Years of Howie Severino" DVD contains 10 documentaries and a special extra feature. My twins requested that we first watch

"Best Friend,"

which focused on an illiterate old man and his clever dog, Habagat. Together, they make a living as street performers doing amazing dog treats that wow the crowds! And the reasons for the old man's determination to make money? He is searching for his youngest son, four-year-old Eddie Boy.

My Closeness got a good feel with

"Lolo ng San Francisco."

She repeatedly asked me to play it next. And play it, I did. The documentary reminded me of the hardships faced by our veterans and kababayans abroad. Life is doubly hard when one's is working abroad. And life is indeed hard for Floro, our veteran kabayan in the United States. You just have to admire him. He just keeps going and going despite his age. Howie finds out why and the source of Floro's strength back home in the Philippines.

I got to watch

"Biyaheng Edsa"

during dinner time by playing the disc in one of my notebooks, which I brought in the dining room. Howie transverses the EDSA highway during the anniversary celebration of the EDSA Revolution.
If only the national highway could speak! Imagine the stories it would tell! Well, I guess it did - through Howie Severino!
His walk from Monumento to Pasay City is a journey through Philippine history itself. The story of the country and the Filipino people. Their joys and sadnesses. Politics and the empty and broken promises that comes with it. Freedom and economics.


Though I still have seven episodes to watch, I'd like to take this opportunity to convey something to Howie Severino...

Much thanks Howie for this collection of documentaries that can only be described as a

COLLECTIBLE!

And I kid you not!

The

must-have collection

not only shows the variety and wide range of topics that I-Witness and you can cater to, and the different approaches that you can take in making documentaries. It goes beyond these. The collection is about Philippine culture and pride in their truest sense. It is about the indomitable spirit of the Filipino people.

Congratulations Howie! Here's looking forward to your next 10 years in the industry! Mabuhay!