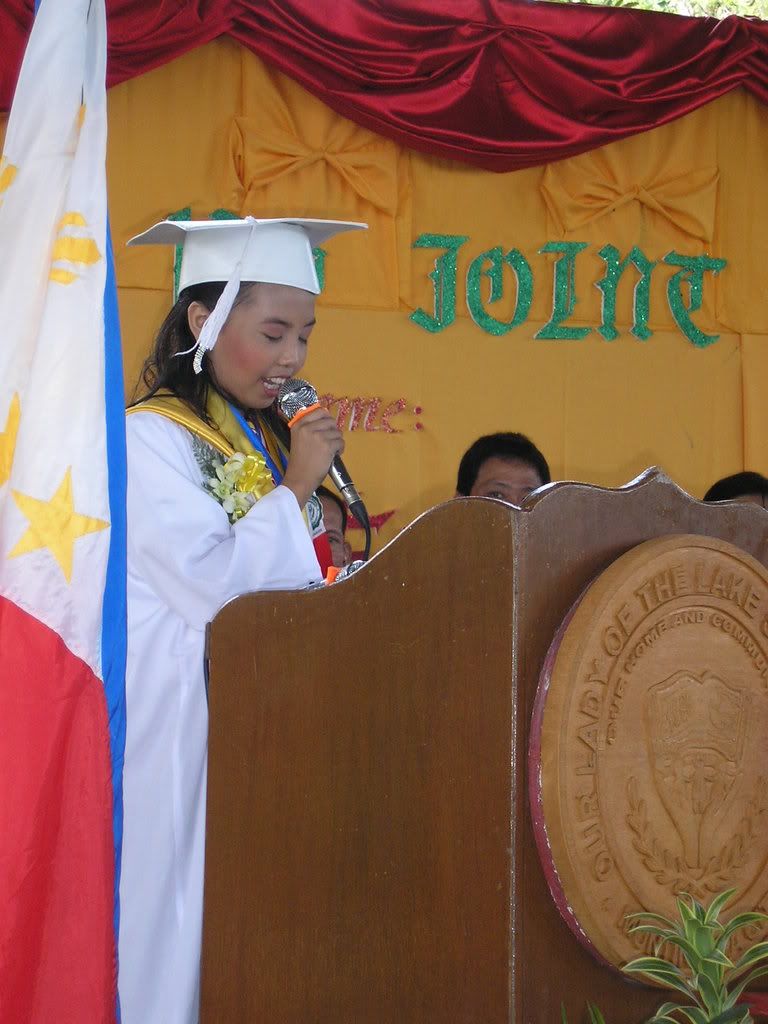 Friends, please allow me a personal moment here. My eldest daughter – Maria Agatha (Agi) - Class President, Student Body Council President, ping pong champion, 1st runner-up in badminton, a title holder of her school's beauty and brains contest, and winner of countless Olympiads and all - has just graduated from the elementary level at the top of her class!
My Little Girl,
The Apple of My Eye,
One of the Reasons for My Being,
My Closeness - My Soulmate,
graduated Valedictorian!
And I kid you not!
Ten of the 12 medals that My Closeness received this morning! (Two of the medals were misplaced by one of the school's staff :) ) The local government also recognized My Soulmate's academic performance! She received

Academic Excellence

awards from Muntinlupa City's

Mayor Aldrin L. San Pedro

and

Vice Mayor Artemio A. Simundac

, among others! Moreover, the Apple of My Eye received the

Highest Award for Academic Excellence

from the

Philippines' House of Representatives

through

Congressman Ruffy B. Biazon

! And get this! A number of schools have also expressed interests in having Agi join them for high school as a scholar!
I've said it before, but I'll say it again - Yes, I'm a proud dad!
But prouder still that My Closeness is growing up with her feet on the ground,
with goodness in her heart, with a great spirit, and great love for her dad. Congratulations, Anak ko'y! I love you, anak!


And here is a copy of the speech given by My Closeness:

Beloved Administrator Mrs. Angelita Simundac-Keppel, Principal Father Jojit de Rama, Superintendent Fe L. Faz, Honorable Mayor Aldrin L. San Pedro, Honorable Vice Mayor Artemio A. Simundac, incumbent members of our local government, Teacher Ben Fabian, dear members of the faculty, distinguished guests, parents, and of course, the graduates, The Class of 2008, I am honored to be here!
I am really thrilled to be here today, and very excited too, as I know you all must be, that the respected officials of our great city could join us.
In the world that awaits us beyond the shores of OLLS, no one can say what our opportunities will be. But this I do know! We have a first-class catholic education from a first-class catholic school! Members of this graduating class have been given opportunities to push themselves to the limit and are now going into high school armed and ready with the talents and knowledge gained from our much-loved catholic school!
Thus, armed with our Catholic education, we do not need to live a "paint-by-numbers" life. Decisions are not irrevocable. But choices do come back. And as we set off from OLLS, I hope and pray that many of you will consider making these choices.
And what are these choices that we need to make?
1. The CHOICE TO BELIEVE! To believe in something larger than yourself - to get involved in some of the big ideas of our time. And to promote such with one thing in mind – in pursuit of the welfare of others. Continue to learn this way and everything will unfold before you.
2. The second one is the CHOICE TO PRACTICE PATIENCE! Things will come to you when you are ready to handle them - not before. Just keep walking your road. And as you walk your road, as you live your life, RELISH THE ROAD. Amidst the twists and turns along the way, you will see the glory of life up ahead!
3. The third is the CHOICE TO PLAY TO WIN! Playing to win is one of the finest things you can do. It allows you to fulfill your potential. It enables you to improve the world and develop high expectations for everyone else too. And what if you lose? Just make sure you lose while giving it your best shot!
4. The fourth is the CHOICE TO ENJOY! Enjoy your family and friends! We only live once! Make the most of it!
5. And last but not the least – the CHOICE of HAPPINESS! When all is said and done, awards are temporary and fleeting. It should not be the goal of anyone. Happiness is the right goal. Happiness comes from pursuing interests and passions that do not obviously result in joy. It comes from building a great team, from family, from school, and from friends. Happiness - give until it hurts! For we make a living by what we get, but we make a life by what we give.
Indeed, our graduation is a celebration of achievements! But, it is only the beginning!Today's graduation serves as the catalyst of our pursuit towards life's great opportunities and challenges! As we graduate from OLLS today, take with you deep thanks for the courtesy and the honor you have shared with our beloved Mrs. Simundac-Keppel, the energetic Father Jojit, Teacher Ben, the dear members of the faculty, and last, but not the least, your family! Without them, we wouldn't even be here!
Friends, please allow me a personal moment here! I've been waiting years to say this: "Dad, Mom, Kuya Dado, Kuya Kiko, Patricia, my Lolo's and Lola's, my Tito and Tita's: This one's for you! I love you very much!
I am very hopeful as I look at our graduates today. The catholic education they have received from OLLS has made them ready to tackle head-on the next challenge: HIGH SCHOOL!
They are competent!
They are confident!
And they are ready!
Thank you very much! God bless! And may your future be worthy of your dreams!
"Congratulations, Anak ko'y!"


*Did you enjoy the post? Did you find it interesting?
You know what to do...:)