The Predator Blak Case! Remember my post on the
Predator Air Case
- (link here)? Guess what, pool players and fans! The Predator Air Case in now a reality! Christened the Predator Blak case, the 2nd generation Predator pool cue case is crafted in either sumptuous black leather or sleek black vinyl!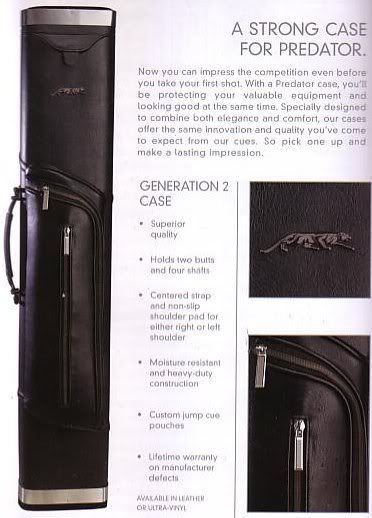 From what I could initially gather from Predator's official website, the 2x4 Predator Blak case is accented with stainless
steel and comes with a specially-designed large side pocket with molded compartments for the
Predator Air
jump cue! The 6.35 lbs (2.88 kilos) Predator Blak pool cue case also features a centered strap and a non-slip shoulder-pad designed with carrying comfort and flexibility in mind. And oh! Complimenting the stainless steel accents are
Predator Cat
design elements that featured on the outside front, inside top cover, and bottom of the Predator Blak case! Now, that is one one beautiful pool cue case!
I have said it before, and I will say it again – The Predator Blak case is just oozing with coolness! I want one! And I kid you not!
According to Predator's International Sales Manager -
Jessica Wise
- Predator will debut more cases in 2008, including the 3X6! Now, that's very good news friends!
"The AnitoKid loves beautiful cue cases!"


*Did you enjoy the post? Did you find it interesting?
You know what to do...:)