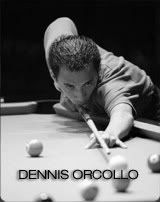 Philippine billiards is at its finest one again! And I kid you not! Congratulations to Filipino pool player Dennis Orcollo, aka Robocop, for winning the San Miguel Beer-Quezon City 9-Ball Championship at the Trinoma Mall, Quezon City! Dennis Orcollo beat Roberto Gomez, aka Superman, (2007 World Pool Championship 1st Runner-Up) in the finals (13-9) to take the $10,000 top prize! Orcollo is the reigning BCA Open Champion.
Both Roberto Gomez and Dennis Orcollo rallied from the losers' bracket to make the finals of the billiards competition. Gomez and Orcollo made headway into the finals by beating fellow Filipino pool players Francisco Django Bustamante and Ramil Gallego. Superman topped Django Bustamante at 11-4, while the Philippines' Money Game King beat Ramil Gallego with a 11-7 score in the semifinals of the 9-ball competition.
The 29-year-old Dennis Orcollo topped a number of notable billiards players in the tournament before reaching the finals. These include Ramil Gallego (11-7), World Pool Champion Ronnie Alcano aka The Volcano (9-8), Leornado Didal (9-5), Russian Petiza (9-5). On the other hand, Roberto Gomez reached the finals by subduing World Pool Champions Efren Bata Reyes aka The Magician (9-4) and Alex Pagulayan aka The Lion (9-4), and William Millares (9-0), Carlo Biado (9-6) and Dondon Razalan (9-3).
The $30,000 San Miguel Beer-Quezon City 9-Ball Championship was organized by Puyat Sports, Bugsy Promotions, and Negros Billiards Stable and sponsored by the Philippine Amusements and Gaming Corp. (PAGCOR), Trinoma, Philippine Star, Ayala Malls, and Philippine Poker Tour (PPT).
"9-Ball billiards is a blast with The AnitoKid!"


*Did you enjoy the post? Did you find it interesting?
You know what to do...:)