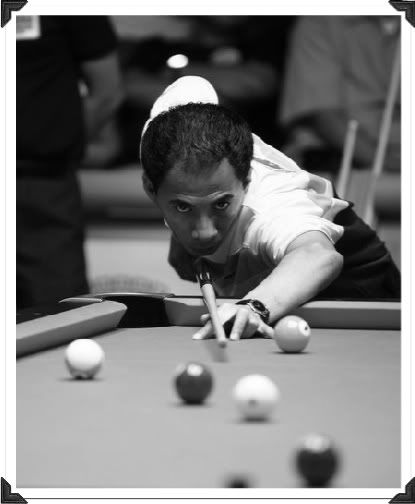 One of the Philippines' best billiards players, Dennis Orcollo, aka Robocop, has won the 2008 Japan 9-Ball Open! The reigning number 1 player in the world bested more than 200 pool players from around the globe to win the championship and pocket the 2 million yen top prize!

It was Dennis Orcollo's second straight title run in a week after winning the just-concluded San Miguel Beer-Quezon City 9-ball Championship, held at the Trinoma in Quezon City! The 29-year-old Filipino pool player bested Japan's Ryoji Aoki with a very impressive 9-2 score! And he did it with flair! Dennis Orcollo pocketed the first seven racks in his match against Aoki, and the rest, as they say, was history! And who did Orcollo trounced in the semifinals? It was none other than 2006 World Pool Champion Ronnie Alcano, aka The Volcano, with another impressive run - 9-3! And I kid you not!

The popular billiards player was supported by the Billiards Managers and Players Association of the Philippines (BMPAP) in the competition. The Robocop's next tournament will be the second leg of the Guinness Asian Tour in Penang, Malaysia (April 3-4, 2008). Orcollo will then go for the world title in the 2008 World 8-ball Championship in Fujairah, United Arab Emirates (April 18-25, 2008), where is seeded for being the runner-up to Ronnie Alcano in 2007.

Other Filipino pool players who competed in the Japan 9-ball Open include Roel Esquillo (quarterfinalist), Warren Kiamco (Last 16), defending champion Alex Pagulayan, aka The Lion (Round-of-32), with Roberto Gomez, aka Superman, Joven Bustamante, and Lee Van Corteza.
Congratulations
Dennis!
Mabuhay!
"Winning is synonymous with The AnitoKid!"


*Did you enjoy the post? Did you find it interesting?
You know what to do...:)