Are you tired of getting chalk on everything? On your hands? On your case? On your person? Then check out the Euro Pocket Chalker! The Euro Pocket Chalker is the only one with the Snap Strap Cover designed to address such concerns! In comparison to other chalkers on the market today that only lets a player use the first part of a chalk, the Euro Pocket Chalker allows anyone and everyone to utilize most of the chalk! The leather of the Euro Pocket Chalker does not stretch out! The strap cover wraps around the chalk allowing one to push the chalk up, while holding it tight!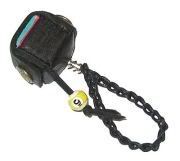 Euro Pocket Chalker offers different top quality chalk holders. These include the

Euro Finger Loop, Euro Case Clip, Euro Key Fob, Euro Wrap

, and the company's signature item - the Euro Pocket Chalker

.

The European redesign of the infamous Pocket Chalker has brought new meaning to class act for a class sport. Euro Pocket Chalker products are made of the same leather used to make fine European show saddles and will hold their shape – guaranteed! The exclusive snap strap cover is specifically designed to keep the chalk in and the dust out of one's cue case. The top quality product either comes with imported Indian Horn, hand painted Peruvian ceramic, or a waxed nylon cord.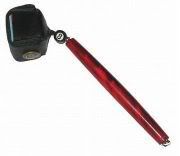 All Euro Pocket Chalkers cut, sewn, and assembled by an organization known as ZAZ - Zak³ad Aktywnoœci Zawodowej, Stowarzyszenie Pomocy Humanitarnej. ZAZ is an agency that, in partnership with the Polish government and local businesses, provides jobs for our mentally challenged brothers and sisters. They are a very gifted group of individuals. It goes without saying that I am proud to to be using a product made by them! And I kid you not!
"The AnitoKid loves cool pool accessories!"


*Did you enjoy the post? Did you find it interesting?
You know what to do...:)