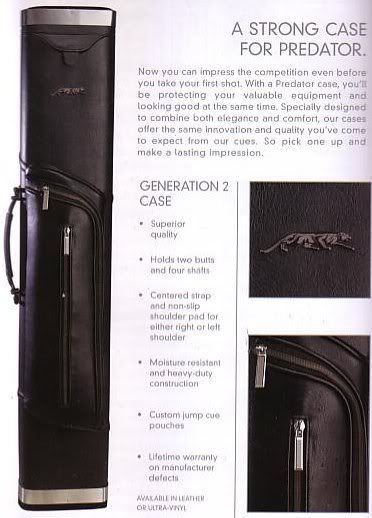 A Predator Air Case? Saw an online thread discussing about such a cue case, which will be done in a bigger size. Reputedly, the 2nd generation Predator pool cue case will not be an Instroke and could be available in April 2008.


The Predator Air Case features metals around the bottom and top, which could be engraved!
It also appears that the cue case does not
have a top handle. How about the space devoted to accessories? Looks alright?
Option/s for a special order (case larger than a 2x4) remains in the dark, friends.

From the initial looks of things, I think the Predator Air Case is just ooozing with coolness! I want one!

And I kid you not!





"The AnitoKid loves cue cases!"
*Did you enjoy the post? Did you find it interesting?
You know what to do...:)