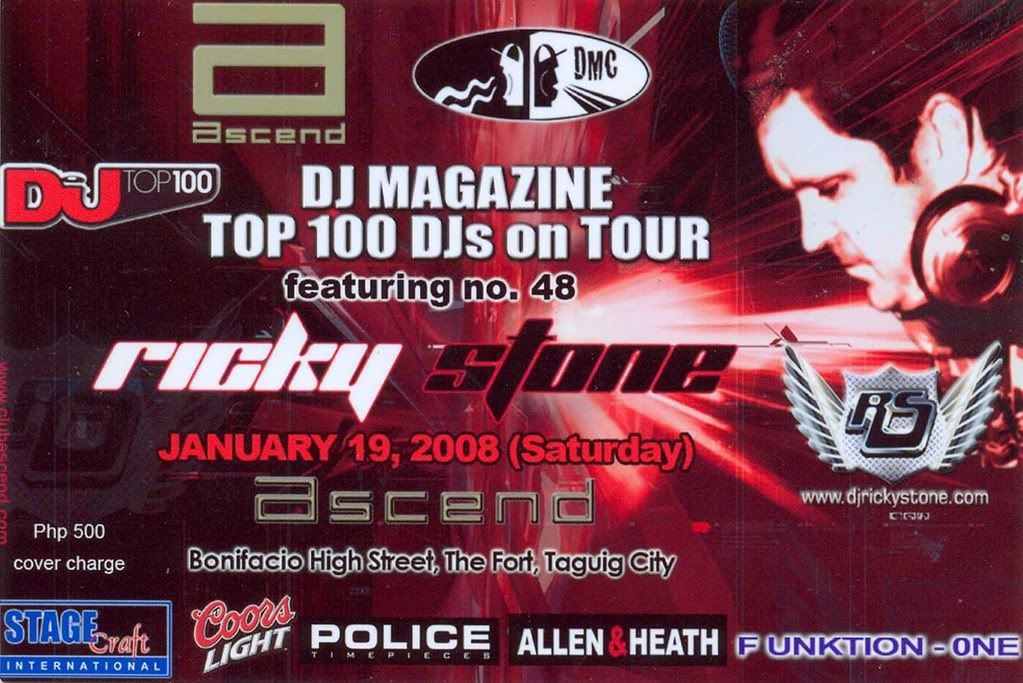 Fellow clubbers and party people! My good friend, Jesse Gonzales, CEO of DMC Philippines, is producing a one-of-a-kind clubbing experience at the brand new spankin' Ascend! Ricky Stone, DJ Magazine's Top 48 DJ will grace Ascend, Bonifacio High Street, The Fort, Taguig City on January 19, 2008! This event is brought to you by Stagecraft International, Funktion-One, Allen & Heath, and Belvedere Vodka!

DJing + producing + talent + personality = Ricky Stone! Ricky Stone's ability to connect with Pinoy clubbers and bring dance floors alive is truly outstanding! Originally from the Steel City of Sheffield, Ricky rocked clubs and raves across the UK before continuing his rise in the east. Moving to Asia in 2002, he set up base in the pulsating city of Hong Kong and swiftly forged a bright future as one of the region's most sought-after DJs! Fast forward a few months and DJ Magazine was documenting the scale of Ricky Stone's rise, as he was voted #40 in 2006! He is currently on a roll as the poll's highest ranked DJ based in Asia!

Working together with studio partner Derek Kaye, as Kayestone, they signed original productions like Atmospheres to Whoop! And Distinctive Records, and remixed an exciting range of artists, including Hybrid, Blue Amazon, and Sueno Latino! Their remix of David Forbes' 2001 crossover smash Questions (Must Be Asked) generated serious exposure and was snapped up by such best-selling compilations as Gatecrasher's Discotech Generation and Paul van Dyk's The Politics of Dancing, as well as receiving support from Pete Tong on Radio 1.

DJ Ricky Stone made a return to the radio, this time with DJmag, to mix and present his Sounds from the Orient show, which is broadcasted fortnightly in over 75 countries! Ricky also toured North and South America, Australia, and Europe extensively, including regular appearances in Romania, where he has developed an incredible following! A debut at Berlin's almighty Love Parade on the Pulse Radio & Om Records' float as it bogged through a sea of 1.2 million attendees!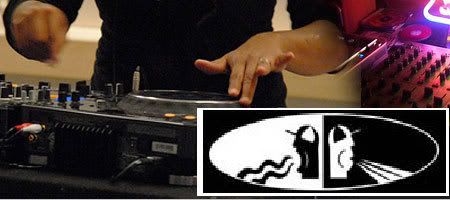 Heads up to what else is on the horizon now because Ricky Stone has three more dance floor bombs in the bag, including Yeah with Jamie McHHhddHugh, Housemachine.Needlequeen with Kid Lopez, and an explosive workout with Mark Wilkinson. He is also all set to establish his own record label, 852 Recordings, as we speed into 2007. So secure your seatbelts and brace yourselves for a brand new wave of deep, ballistic beats and gargantuan grooves! Cementing his reputation as a superb international ambassador for electronic dance music, Ricky Stone is on a one-way mission to share his gritty, future-tronic sounds with people all over the world! I'm going clubbin'! And I kid you not!
"The AnitoKid. The ultimate clubber."
*Did you enjoy the post? Did you find it interesting?
You know what to do...:)