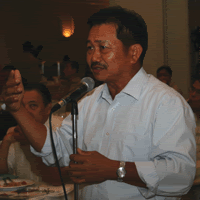 North Cotabato Vice Governor Emmanuel Piñol

is setting the record straight over the controversy surrounding him and Dabawenyo boxing champ Diosdado "Prince" Gabi. The Vice Governor
issued a statement dated August 27, 2007. It is posted at
www.thepinoyboxers.com.
The Vice Governor previously issued a statement that he was willing to drop the case against Gabi if the latter will apologize.

"If they don't, I will see this case through until the end of my life. That's a promise," - Manny Pi
ñ
ol

.
I've read the statement and all. I have also followed Pi
ñ
ol's articles and writings about sports, politics, etc.
"Naloko na nga ako, ginagago pa nila ako."
I have never seen him write like that. This isn't about money, fame, or contracts. This isn't even about boxing anymore. This is about setting the record straight. It's all about honor.

And I kid you not!