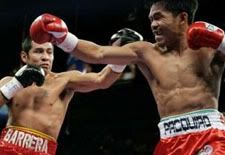 Manny Pacman Pacquiao Wins!

Marco Antonio Barrera enters the ring wearing a shiny red robe with red trimmings. He looks kinda chubby. Well, that's why he is called the Baby Face Assassin. He is wearing a rosary.
Pacquiao enters the ring with his song, "Lalaban Ako" playing in the background. He's wearing a white robe with red trimmings. He, too, is wearing a rosary. He looks confident. Supremely confident. He quick goes into his corner and bows his head in prayer. It was his knockout of Barrera four years ago that catapulted him to stardom.
Bob Arum and Golden Boy Productions are promoting the fight at the Mandalay Bay. Barrera, the Baby Face Assassin, is a 3x World Champion while Manny "The Pacman" Pacquiao is a 2x World Champion. The fight is scheduled for 12 rounds in a 10 point must scoring system. Tony Weeks is the referee.

Round1
Feeling out each other. Both fighters are very cautious. Manny's wearing red shorts with flames, while Marco is supporting a red one with white trimmings. Inside one minute, lots of action and combinations from both fighters. Manny hits Marco dead on the face. Barrera is standing his ground. Loud chants for both fighters from the crowd! Feel the excitement! Woooooo!
Round 2
Jabs against Marco who is still standing his ground. Good left hand to the face of Manny! A flurry of jabs are traded. Manny shots to the liver and Barrera counters! Manny is still feeling his range. Marco coming down with a good counter on the face of Manny - OUCH! Upbeat punches from Marco continues! The Baby Face Assassin is fighting very well. Oh boy!

Round 3
A barrage of punches to the body from Pacman. And a punch connects to the face of Marco! Barrera counters and hits Pacman straight on the face, who slightly reels! Manny quickly raises both arms signifying that he is not hurt! Yeah!

Round 4
Manny finally connects! Has found his range! But Barrera counters briefly. Marco body shots at Pacman. Manny misses with a 1-2 punch. Manny connects to the left side of Marco's face via a left! Then a good right by Manny! A much improved round for the Pambangsang Kamao!

Round 5
Barrera is a much wiser fighter now – learning from his past fight with the Pacman. Manny connects with an uppercut and Barrera is against the ropes! However, Barrera counters with a left uppercut too! Two soft punches connecting to Manny's face from Marco! Left and right crosses are the order of the day! Manny is hurt! Tinamaan! Grabe ang palitan! Loud chants for Pacquiao from the crowd! Manny! Manny! Manny! Manny scores with a left hook but Barrera is showing a lot of courage! Left and right crosses again! Wow! The crowd stands on its feet clapping at the end of the round! Awesome!

Round 6
The excitement level is high! Both fighters are feeling each other. Manny tries to use his right jab but Marco showing excellent timing every time Manny attacks. Barrera against the ropes in the corner – and fights back! Marco Barrera connects to the face! Manny responds! What a fight! A flurry of punches from both fighters! Barrera is hurt! He fights back again! Lots of punches for Manny at lighting speed! The Baby Face Assassin doesn't know where the shots are coming from! A big round for Manny! Idol talaga!

Round 7
Both pugilists are in excellent shape! Round starts with a feeling out from both fighters. Barrera is playing a waiting game. Manny connects with a good right to the face! Another good right to the midsection from the Pacman! Slow pace again as Barrera circles back. A brief exchange of punches inside the 10-sec finish.

Round 8
Barrera into the midsection of Pacquiao. Barrera is fighting a very tactical fight. Manny misses with a right cross! The crowd is chanting both fighters name. Manny hit by a 1-2 combination from Marco! Wow! Pacquiao lunges in with a left to Barrera's face! Marco's left cheek is beginning to swell now! Another good left from Manny! Manny connects to an off-balanced Antonio. A flurry of punches from Marco – few connect. Pacquiao dishes out his set of flurries inside the 10-sec. Good round for Manny.

Round 9
A flurry of punches to Marco, who is against the ropes. A good jab from Marco to Manny's left cheek. But Pacquiao connects and Barrera is against the ropes again! Marco is not backing out and responds with own set of punches. Connects some, but they don't look to have much power! Manny scores another good left! Short punches are the order of the day – a lot of 'em before the 10-sec bell! Manny is ahead in points! Waga-waga-waga!

Round 10
Nine minutes left in the fight. We still have to see Manny connect with a thunderous punch. Barrera's well-planned counter against Manny's style seems to be working - just to survive the fight. Countering to survive is the Baby Face Assassin's obvious strategy. Barrera backtracks near the ropes as Manny comes in. So far a slow round. No rhythm for Manny against the backtracking Barrera. Marco is not engaging – just side to side moves. Suddenly, Manny connects a good combination! A cheap side to the left side of Manny's head from Barrera has the crowd booing.


Round 11
Nice shot coming from Manny and Marco backtracks again! Good left from Manny Pacquiao but Marco Barrera counters. Another god left from the Pacman! Manny is still at it! He is not tired at all! Has been the aggressor in all rounds! An exchange near the ropes! Wow! A cut in the lower portion of Marco's right eye has become evident! Pacquiao lunges with a flurry of punches. Marco nearly goes down! And the crowd goes wild! Manny again stuns Marco! They tie up! Wait! There's a foul blow from Marco to Manny's head as the referee was about to separate them! Barrera snaps his right hand at Manny's head! The crowd boos! #%&@*!!! Why the hell did he do it? No future Hall of Famer does that! The ref takes a point away from Marco Antonio Barrera! Pacquiao makes the sign of the cross and gets back into the fight. Blood oozes from Marco's right eye! Love it or leave it! Yeah!

Round 12
Manny senses victory here! We have gone the distance! Barrera needs a knockout to win the fight! The Boxer of the Year showing his true form in the ring! A 1-2 combination from Manny! Barrera slips! Manny is a gentleman indeed! He doesn't play any dirty tactics at all. Manny urges Marco to fight! Pacquiao is trying to go for a knock out! Oh boy! Atapang na Filipino talaga! Never mind that my forecast of a fourth round knockout failed to materialize. The crowd claps for Manny! Manny goes into his corner and bows down in a prayer of thanks. The Pacman is all grace, power, and form - And I kid you not!
Guess who won by unanimous decision? The scores are 118-109, 118-109, 115-112 – all for The Pacman, Manny Pacquiao! Congratulations Manny! Mabuhay ka!
"Box It Out with The AnitoKid."
*Did you enjoy the post? Did you find it interesting?
You know what to do :)