Alex Pagulayan, aka The Lion, filed the libel suit against the BSCP for accusing him of "sharking" and for later withdrawing his participation in 2007's Guinness 9-Ball Tour.
The 30-year-old 2004 World Pool Champion filed the complaint at the Pasig Regional Trial Court before 2nd Assistant City Prosecutor Maria Anunciacion Hipol. Alex Pagulayan was accompanied by his lawyer Alexis Abastillas-Suarez, fellow Filipino pool players Efren Bata Reyes, Francisco Django Bustamante, Roberto Gomez, and Joven Bustamante, and Perry Mariano, owner of Bugsy Promotions.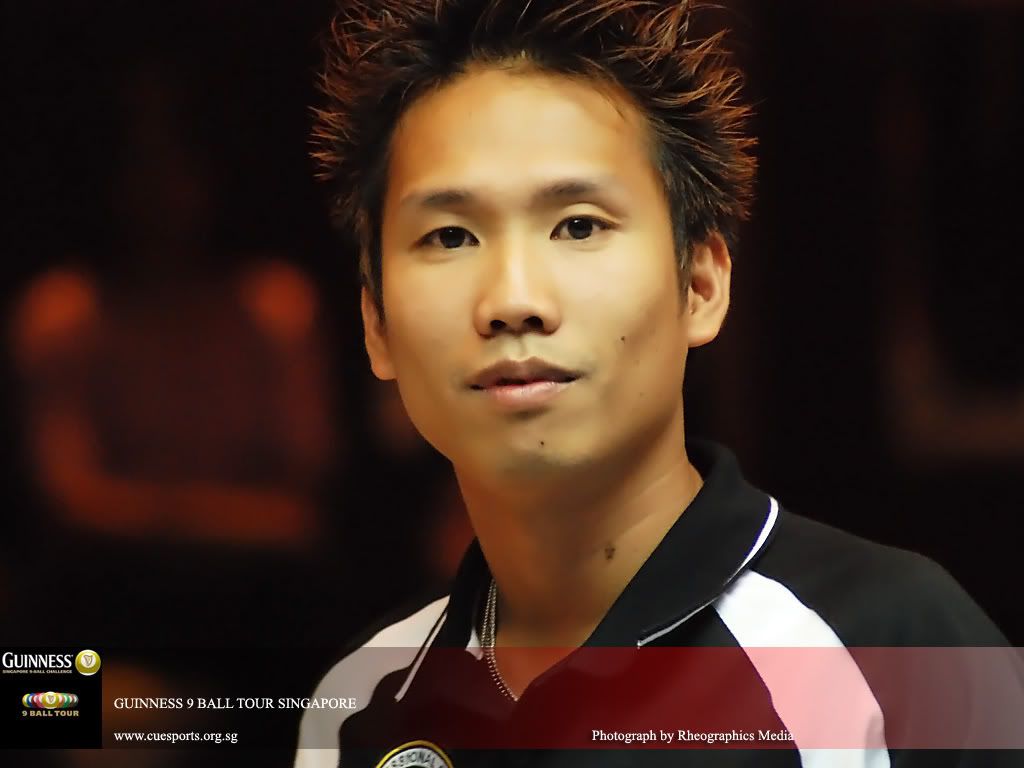 From Inquirer.net:
In a 9-page affidavit, Alex Pagulayan said the BSCP's pronouncements last year—which accused him of "sharking" his Malaysian opponent in the Guinness Tour's Singapore leg—are "libelous" and have caused him "irreparable harm, injury and embarrassment."
"My complaint is they ruined my reputation," Alex Pagulayan told court reporters in Filipino. "I've been giving honor to the country and they accuse me of something which is not true."
The BSCP, in withdrawing Pagulayan's entry in the Guinness Tour's Shanghai leg last year, said it based its decision on a finding that Pagulayan's conduct in the Singapore leg was "unworthy and unacceptable for a representative of a country that is regarded today as the epicenter of international pool."
"His antics amounted to sharking—the pool term for acts to disrupt and disarm one's opponent in order to win," the BSCP said in its media statement.
However, Alex Pagulayan argued that his actions did not constitute "sharking." In fact, he said, the promoter, the organizers and even his own opponent in that particular Singapore match did not complain about his play.
"So who complained? We talked to Ibrahim Bin Amir, my opponent, and he was not complaining. ESPN and the sponsors all said there was no problem," said Pagulayan.
Bata Reyes, who is also the vice-president of the Billiard Managers and Players Association of the Philippines, said, if anything, Pagulayan was just entertaining the crowd.

A-Kid: From what I could gather online and the newspapers, Alex Pagulayan filed the libel case against billiards officials Yen Makabenta and Ernesto Fajardo. The Filipino pool player is asking for more than P6 million worth of damages.
According to Alex Pagulyan's sworn testimony, he was called a disgraceful loser and a liar. The Lion is reportedly asking for P3 million for the supposed endorsement from Andoks Lechon before he was prevented by the BSCP from joining the next leg of the Tour and another P3 million for morale damages. He is also seeking P500,000 for exemplary damages, P200,000 in attorney's fees, court trial fee of P100,000, and additional Php50,000 for appearances etc. Moreover, Alex Pagulayan is asking for a maximum imprisonment of six years for both Yen Makabenta and Ernesto Fajardo.
But wait, there's more! Perry Mariano bared that there will be more lawsuits to follow, i.e., serious criminal cases to be filed soon so that the public and government would know the real issues!
The online billiards community believes that Alex is really pissed on a massive level because no person would hope for someone to be jailed, if he wasn't hurt or maltreated badly. A few also expressed their personal opinions - that they, too, will not take it lightly if anyone calls them a liar, a sharker, and a sore loser. And truth be told, an online user even called for the castration of some of the personalities involved in the case!
My take? I hope that it will all work out for Alex. This is The Lion's loudest roar so far! It will now be up to the courts to determine the case's merits - whether he was wronged or not, and if so, to what extent.
On a personal note, Alex Pagulayan is that type of player that anyone, and everyone, would want to hang out with – on and off the pool scene. I have blogged about this a long time ago – link here – and I continually admire the World Champion, not just for his pool playing skills, but for the way he handles himself and his gift of entertaining the crowd - without trying hard, heck, without even trying to do so! Filipinong-Filipino talaga! Natural na natural! No pretentions whatsoever!
I wish that everything will turn out for the best, not just for Alex, but for the country's entire billiards industry, with emphasis on the Filipino pool players. Because truth be told, they are the ones truly responsible for putting the Philippines on the billiards map and making it what is today - the pool capital of the world! And I kid you not!

"There can be only one! The AnitoKid!"


*Did you enjoy the post? Did you find it interesting?
You know what to do...:)