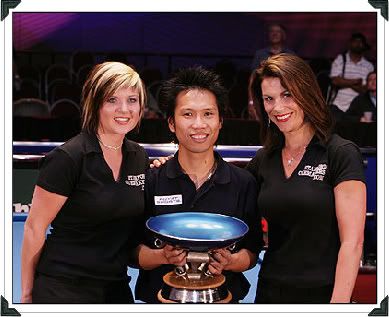 Congratulations to Filipino pool player Alex Pagulayan, aka The Lion, who made one amazing come-from-behind finish in the finals match of the PartyPoker.net World Pool Masters presented by Matchroom Sport and hosted at the Riviera Hotel & Casino in Las Vegas, Nevada!
Alex Pagulayan of Puyat Sports successfully recovered from a 6-3 deficit by making 5 straight racks for a scintillating 8-6 win over Mika Immonen. Indeed, Lady Luck was smiling on The Lion when Mika Immonen had an illegal break at 6-3! And I kid you not! Not only did the Filipino pool player proceeded to clear out the rack, but broke and ran the next three to reach the hill and retake the lead for the first time in the finals match since the first game! Alex Pagulayan then failed to sink any ball on the break – and scratched! However, Mike Immonen, with ball in hand, shot in the 1-ball but scratched in the corner pocket! Like a true Lion, Alex Pagulayan sprang up and ran out the table!
Congratulations Alex! Mabuhay!

Results:

1st Alex Pagulayan $20,000
2nd Mika Immonen $10,000
3rd Francisco Bustamante $5,000
Ko Pin-Yi
5th Rodney Morris $2,500
Imran Majid
Tony Drago
Corey Deuel
9th Thomas Engert $1,500
Mark Gray
Bruno Muratore
Shane Van Boening
Ralf Souquet
Niels Feijen
Christian Reimering
Daryl Peach