True car aficionados have always accessorized their prized possessions as a personal trademark They have always gone the extra mile to highlight their true passion and identity by pimping their ride with the ultimate form of motoring expression – an excellent choice of wheels! Indeed, it goes without saying that the selection of wheels always co
rrelates with one's true sense of style and rhythm. And DubShop Inc.'s debut of the Polo and Fabulous line of rims evokes that and more! It signals another exciting time for the Philippine motoring industry! And I kid you not!
Yes, friends! Two of the world's best lines of light alloy wheels (some call it magwheels) are now on Philippine soil! DubShop Inc. just made another history with the official launching of the POLO wheels collection for SUVs and the Fabulous line of rims for street tuners! It's another first for DubShop Inc., the country's premier source of the world's best wheels!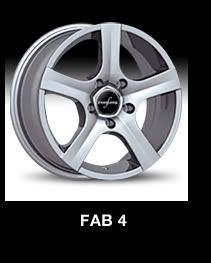 The Fabulous line of wheels is geared towards premium luxury and SUV applications. Fabulous Wheels are made up of modular 3-piece, reverse lip, construction alloys that are manufactured to increase the strength of the wheel. The most popular models of Fabulous are now an exclusive at DubShop Inc., i.e., the Fab1, Fab2, Fab3, and Fab4! And they come in different rim configurations, too! These include 18-, 19-, 20-, and 22-inches! My favorite of the lot? The Fab4! Looks great on my Toyota Hi-Lux! No kidding!


Polo Wheels has over 15 years of experience in designing and manufacturing high quality alloy wheels. Each Polo wheel starts off from 100% aluminum ingot, unlike some companies who utilize recycled aluminum to cut down on costs. Every single style and size is tested and has passed Japan's strict VIA/JWL and JWL-T standards. Trut
h be told, every Polo wheel is hand inspected in the United States to ensure that they are free from any cosmetic defects and are shipped correctly the first time. And oh! Polo Wheels issues a one year limited warranty for the finish and has a lifetime structural warranty guaranteeing that the wheels are free of any manufacturing defects. Arrive in style! Arrive in Polo!
DubShop Inc. provides the highest quality wheels with the best possible customer service. Founded by Silverwind Alloy Wheels, DubShop Inc. showcases its collection of the world's best light alloy wheels from Japan, Taiwan, and the United States at its The Automotive Lifestyle Store located at Timog Avenue in Quezon City. These include 13- to 26-inch wheels in chrome or silver - Giovanna, Katana, Gianelle, Dolce, D'Vinci, Evo, GT Turismo, Polo, and Fabulous! Each and every piece of wheel at The Automotive Lifestyle Store has been meticulously selected from hundreds across the globe with one thing in mind - to compliment both the vehicle and the owner! No more! No less! DubShop's wheel collection literally runs in the hundreds, with each and every wheel designed to suit discriminating tastes and all conceivable forms of whim! It is a one-stop shop for the world's best light alloy wheels!
Dubshop, Inc. - The Automotive Lifestyle Store

91 Timog Avenue, Quezon City

928-20-92 / 413-31-85
Westgate Center, Inside Tyre Gallery
Filinvest, Alabang
381-03-31
"The Anitokid loves DubShop!"


*Did you enjoy the post? Did you find it interesting?
You know what to do...:)