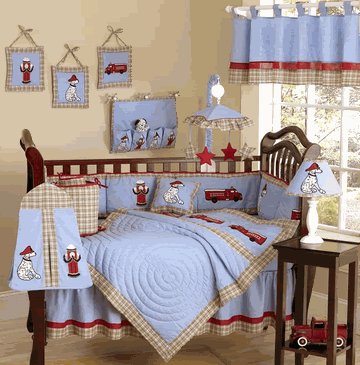 My good friend and billiards buddy, Noel Q. Reyes, sent me pictures of the fire truck nursery bedding he recently bought for his son. Awesome was the only word that I could think after seeing the pictures!
Frankie's Fire Truck Little Boy Crib Baby Bedding 9 pc. Deluxe Set is a cozy warm colored set that features rich and smooth colors! The baby bedding set integrates chambray blue, brick red, and brown/cream/beige plaid into one stunning fire truck nursery bedding for boys! Brand new and all, Frankie's Fire Truck Little Boy Crib Baby Bedding 9 pc. deluxe set will fit all cribs and toddler beds. The set includes a crib quilt, bumper, fitted crib sheet, window valances, crib skirt, diaper stacker, toy bag, and a decorative pillow! And lest I forget, the fire truck nursery bedding comes in a zippered, handled carrying bag, too – all direct from the manufacturer!
What is even more interesting about this cool fire truck nursery bedding made from 100% cotton is its price! A 9-piece set would usually costs over $300 – a small fortune to any family just starting out. However, JoJo Designs, which makes this incredible crib baby bedding set, sells it online for just $159.99! Yes, you read right, friends! The 9-piece fire truck nursery bedding costs only $159.99 online! Wow! That's one incredible value, everyone! And I kid you not!