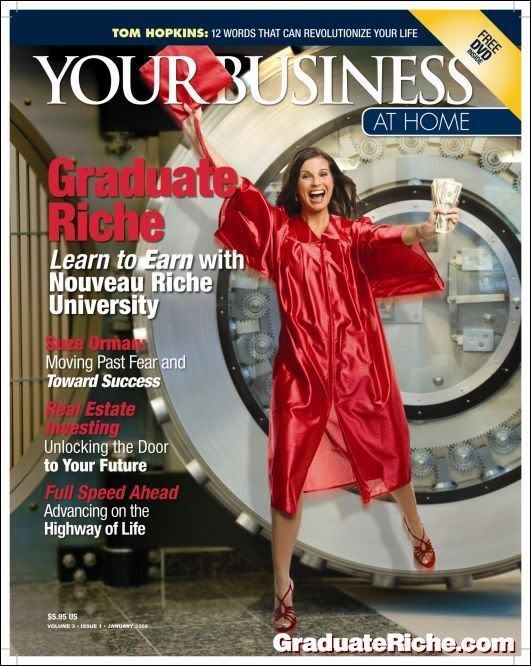 Remember the post I did on Nouveau Riche and Nouveau Riche University? Well, here's more about

Nouveau Riche

, friends! Nouveau Riche University was just featured in the January 2008 Issue of the very popular Your Business at Home Magazine!

And I kid you not!

Your Business at Home Magazine selects only one company per month to feature in its periodical, thus, the decision to choose Nouveau Riche is just an awesome feat!
Nouveau Riche University is a Real Estate Investment College offering classes, e.g., Short Sales, Wholesaling, Foreclosures, Buying and Holding, Lease Options, Tax Strategies, etc. Nouveau Riche provides a one-of-a-kind educational environment that teaches ways of creating wealth utilizing time-tested, foundational principles adhered to by all higher-education institutions. For those not too familiar with it, the Instructional System Design (ISD) is commonplace in major universities around the world. It is renowned as the taxonomy aimed at accelerating learning while maximizing retention. The power of ISD has been proven throughout history. The Founders of Nouveau Riche knew that the ISD science, once applied to wealth-creation, could change the landscape of an entire industry and possibly, contribute to changing the world.
Here are some websites worth checking, friends! Enjoy!