The

Manny Pacquiao-David Diaz

title fight is just around the corner and everyone is excited – myself included! I actually did

a post

on the possibility of the fight between Filipino boxer

Manny Pacquiao

and American-Mexican David Diaz way back in March 26, 2008 - shared my thoughts and issued my concerns. But before that and all, here is an interesting piece o
f boxing history, friends! Written by Manila Bulletin's Nick Giongco, the article focuses on Bernard Docusen, a boxer who challenged Sugar Ray Robinson for his World Welterweight Championship on June 28, 1948. What will be revealed about Bernard Docusen really surprised me! And I kid you not!
Without further ado, here is the Nick Giongco article in its entirety! Hope you enjoy it as much as I did, everyone!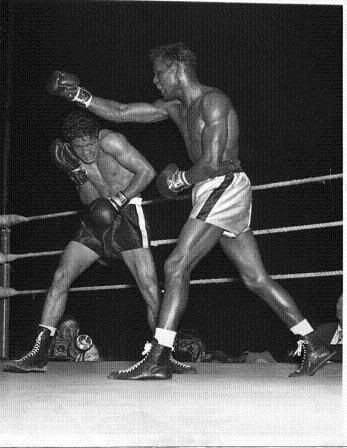 Bernard Docusen vs. Sugar Ray Robinson
A Filipino Challenged Robinson for World Crown
Nick Giongco
An intriguing item on the late Sugar Ray Robinson exemplary boxing record has revealed an interesting find.
On June 28, 1948 at Comiskey Park in Chicago, Robinson defended the world welterweight crown against fellow American Bernard Docusen of New Orleans, Louisiana.
In a 15-round fight Robinson won only on points — a rare feat at that time considering Robinson's fearsome reputation.
Unknown to many. Docusen turned out to be half-Filipino and half-French based on information provided to the Bulletin by the ex-fighter's eldest daughter, Patricia Ann.
"I have been trying to find relatives of my grandfather," said Patricia Ann, who disclosed that his grandfather's full name is Regino Elegado Docusen. "He was born in San Juan and his family later moved to Rosales, Pangasinan."
"We think the spelling of his last name is wrong. When he came to America, back then Americans changed them and spelled them according to the American language. He met my grandmother, who is French, in New Orleans. Her name was Viola Lytell. Her maiden name was DeMolle."
Docusen amassed a career record of 69 wins, 10 defeats and six draws with 21 stoppages in a career that kicked off in February of 1943 at the Victory Arena in New Orleans.
Nicknamed "Big Duke", Docusen is a right-hander who put up a gallant stand against Robinson.
In a story written by Gene Engel in The Ring (Sept. 1948), he described the fight as fast and exciting.
"The fastest and most exciting battle seen in a Chicago ring since the Rocky Graziano-Tony Zale battle in the Stadium a year before... Docusen proved a foeman worthy of Robinson's keenest steel... The flashy Filipino was not daunted in the least by Robinson's reputation... For ten rounds Docusen fought Robinson on fairly even terms, and there was little to choose... Robinson pulled his waning forces together at the start of the eleventh."
"Docusen was dazed by the attack and then Robinson caught him with a left hook that put him down for a nine count. Robinson "had fought himself out in the previous flurry and lacked the power to finish his reeling opponent. For the remainder of the fight Robinson had the upper hand."
A quick check on the Internet about the name Docusen only revealed about the boxer and certain individuals living in America although when changed to Ducusin, there were fascinating entries as persons bearing the surname reside in Pangasinan.
"My dad had no sisters – all brothers. This is the birth order: Regino, Bernard, Maxie, Nolan, Daniel and Charles," wrote Patricia Ann, adding that his grandfather and Nolan "drowned (while) fishing during the monster hurricane in New Orleans in 1947 and their bodies were never recovered."
(The Hurricane of 1947 claimed 51 lives and caused $ 100 million in damage to the city.)
Docusen and his wife are still alive in living in Michigan, according to Patricia Ann, whose siblings are Jacqueline Ann, Marilyn Ann, Joseph Bernard Jr., David and Daniel.
A book on Docusen is in its final stages of completion, according to Patricia Ann.
"My dad wrote about his fights in the 1950s but was turned down by the publishing company because of grammatical errors and I found it in an old suitcase with lots of pictures."
"My dad did a great job in describing his fights – he takes you on a journey with him. When you complete reading the book, you feel like you have been taken back to the 30s and the 40s. He has many pictures in his book, including one of his father and mother. He then goes into his boxing career—a lot of things I never knew until I started putting it in book form."
For his exploits, Docusen was inducted into the New Orleans Hall of Fame and on July 22, 2004, he received a plaque of recognition from the Filipino-American National Historical Society for his outstanding boxing career and in October of the same year, he was presented with a special tribute signed by the Governor of Michigan.
On June 21 in Los Angeles, Docusen, alongside his younger brother, former bantam and feather contender Maxie, will be inducted into the California Boxing Hall of Fame of Don Fraser.
Patricia Ann added that a release of DVD copies of the rare fight with Robinson is also being planned.
*more

interesting reads

here, friends!

"The AnitoKid loves boxing!"


*Did you enjoy the post? Did you find it interesting?
You know what to do...:)