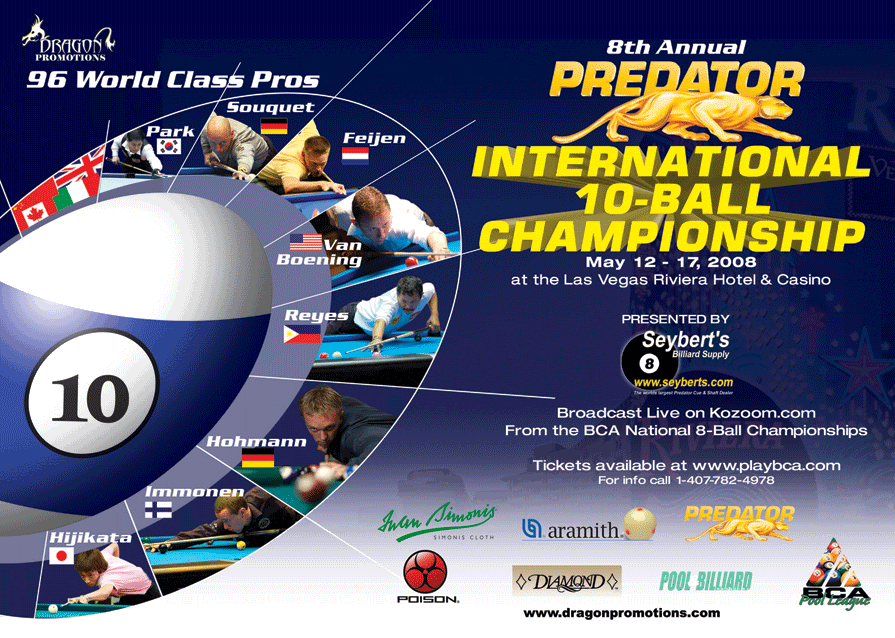 The 8th Annual Predator International 10-Ball Championship is just around the corner and promises to be one very exciting competition as Hall-of-Famer Efren Bata Reyes, aka The Magician, leads Asia into Las Vegas, Nevada, for the year's most-awaited tournament! Produced by Dragon Promotions, the 8th Annual Predator International 10-Ball Championship is hosted by the BCA Pool Leagues at the Riviera Hotel & Casino. And it goes without saying that the event is sponsored by Predator Cues!
The 8th Annual Predator International 10-Ball Championship will see the top 20 professional pool players from Asia, who will test their skills and all from their western counterparts! Indeed, Japan, China, Korea, India, and the Philippines will be well represented during this Predator event. Japan will field its champions Hiroshi Takenaka, Goh Takami, and 3rd Place finisher at the US Open Tomoki Mekari. Also in the offing is the 18-year-old World Junior 10-Ball Champion sensation, Hayato Hijikata, and the fast shooting and very flashy Naoyuki Oi! Hong Kong's Lee Chenman will definitely be a tough draw, as well as India's Raj Hundal, India American Tony Chohan, and Korea's Pil Hyun Cho.
But after all is said and done, the threat of the Philippines will be very obvious as they are sending a massive force of 9 pro pool players – fearsome and all! How fearsome? This team of Filipino pool players has a combined title list that includes 3 World 9-Ball Championships, 2 World 8-Ball Championships, 2 US Open Titles, 5 World All Around Championships, and a multitude of major pro wins in USA, Japan, Korea, Taiwan, and more! And I kid you not! Leading the Philippine contingent is the Puyat Sports team of Efren Bata Reyes, Alex Pagulayan, and Francisco Django Bustamante. Bugsy Promotions will also be very well represented in the person of World 9-Ball & 8-Ball Champion Ronnie Alcano, while Lee Van Corteza, Warren Kiamco, and Ramil Gallego make up the Negros' Stable. Jose Amang Parica, the man responsible for starting the Filipino pool invasion, will also see action in the event, as well as Canadian Filipino Edwin Montal.
And lest I forget, Skybox Seats will be available for the first time at Predator International 10-Ball Championship! Watch the pro pool players play in style up high in the elite Skybox area seating! The Skybox seating will host the pro players and sponsors, as well as elite VIP ticket holders who specifically purchase tickets just for the skybox areas. Tickets can be purchased on site at the tickets sales counter in the pro arena. Buy now in advance at www.playbca.com. Mingle with the pros! Be with the pros! Feel like a pro!