Here is an article on Franciso Django Bustamante, written by my one of my kababayans, Val G. Abelgas. The article was first published in the online magazine, Philippine Post Magazine. It is one interesting read friends! And I kid you not!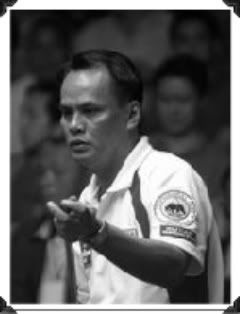 Franciso Django Bustamante:
Kilabot of the Billiard Hall

Great billiard players have one thing in common. They played the game at a very early age and grew up in billiard halls. Jose "Amang" Parica, the first of the Filipino billiard greats, was only seven years old when he first played the sport, and he played every single day in the billiard halls his father owned in Sta. Cruz and Blumentritt in Manila.
Francisco "Django" Bustamante, Player of the Year and world's No. 1 ranked player in 1998, is no exception. Bustamante first picked up the cue when he was 12 years old, and played every day in the billiard hall owned by his brother in Tarlac, Tarlac. Soon, he was playing so well he had to seek other billiard halls for tougher competition. In 1985, he went to Metro Manila and eventually found the plush billiard halls of the Puyat-owned Coronado Lanes at Rustan's in Cubao, Quezon City. There, he matched skills with the likes of Parica, Efren "Bata" Reyes, Leonardo Andam, Rodolfo Luat, Ramil Gallego, Antonio Lining and Santos Sambajon Jr., some of the finest Filipino players who have dominated the world billiard scene for years.
Bustamante, Parica and Reyes have figured in the finals of scores of billiard tournaments in the United States, Japan, the Philippines, and other parts of the world. In fact, in Bustamante's very first major tournament, the San Miguel Beer World 9-Ball Open held in Manila in 1988, he engaged Parica in the finals. the tournament was participated in by players from Europe, Japan, and the United States. Bustamante lost to Parica in a closely-fought match, but surprised everybody with his very strong showing in his very first major tournament. Everybody in the hall knew then that he would become the heir to Parica and Reyes.
Last August 15, Bustamante and Parica met again in the finals of the First Western 9-Ball Open Championship at the Crystal Park Casino and Hotel in Compton. This time, Bustamante was favored to beat Parica, who was the unanimous choice for Player of the Year honors in 1997 by three prestigious billiard organizations. But Parica surprised everybody with some outstanding billiard shots and won the $10,000 top purse.
Like Parica, Bustamante prepared for international competition in Japan. From 1991 to 1993, Bustamante competed in Japanese tournaments, including the Japan Open, in which he won once and placed second once. In 1991, Bustamante won the Brunswick Open by defeating American Mike Libron in the finals. Libron was to become his close friend years later.
By then, Bustamante was already based in Kiel, Germany. A Filipino working in Germany had spotted him during a visit to the Philippines in 1990, and invited Bustamante to go with him to Germany to compete in some tournaments. After showing his skills, an Indonesian who owns a 20-table billiard hall, called Rick's Cafe, hired Bustamante to become the outfit's home pro. Bustamante, who speaks good German, continues to work in the billiard hall.
In 1992, Bustamante started competing in the rich U.S. Pro-Billiiards Tour. He won his first U.S. tournament in 1993 at the Bicycle Club Casino in Bell Gardens by beating Earl Strickland, America's foremost player and currently ranked No. 1 in the world, in the finals.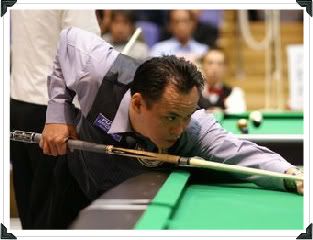 In his first two years in the
U.S.
tour, Bustamante was ranked in the top 10, but skidded down well below the standings in 1994 and 1995. In 1996, the rich Camel Pro-Billiard Series, sponsored by tobacco giant R.J. Reynolds, was launched, and Bustamante, like most of the best billiard players, moved to that circuit. He did not fare well in the first year, but in 1997, he won two of the eight legs of the circuit (
Nashville
and
Denver
), and was ranked third in the world behind Parica, who was adjudged Player of the Year with three circuit victories.
The next year, Bustamante won three tournaments. He beat Nick Varner in the finals in Denver, Dennis Hatch in Tulsa, and another top-ranked player in Nashville. In addition, he had two second places, and defeated Strickland in the Reno Open 9-Ball Championship. He won $122,000 that year, his biggest year-long earnings so far. This year, after three legs of the 8-leg Camel circuit, Bustamante is on third place overall.
Just recently, Bustamante finished third in the World Open 9-Ball Championship in London. He lost to Reyes in the semifinals. In 1995, Bustamante won the Philippine Challenge

9-Ball

Open by beating Andam in the finals.
*Much thanks to my kababayan,

Val G. Abelgas

!
"The Anitokid, just the best!"


*Did you enjoy the post? Did you find it interesting?
You know what to do...:)