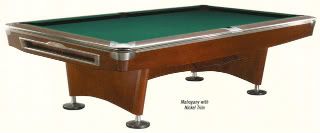 Matchroom Sport can announce that Brunswick Billiards, the most trusted name in cue sports, will be the Official Table at all their international pool events over the next three years.
That is the good news for top players from around the w
orld following the signing of a three-year agreement which will see the Gold Crown
V become the table at the World Pool Masters, the W
orld Cup of Pool, the World Pool Championship and the Mosconi Cup.
Brunswick's Gold Crown V tables, which set the standard around the world for
its unmatched quality, accuracy and playability, launched last year to rave reviews as an updated ve
rsion of one of the most legendary names in the game.
Since first using Brunswick at the 1998 Mosconi
Cup, Matchroom Sport has enjoyed an unbroken ten year relationship with the world's
premier table manufacturers.
Commented Matchroom Sport Chairman Barry Hearn, "We
always strive to give the competitors the finest possible playing conditions at our
events and with Brunswick, we know that we are dealing with the best.
"We have used Brunswick at all our tournaments over the past decade and I believe that we
have given them cost-effective exposure in the large number of territories where our
programmes are broadcast."
"Brunswick is proud to be the number one choice of billiards
professionals and Matchroom Sport," said Sean Cummings, president of Brunswick Billiards. "The Gold Crown V is
a world-class pool table, engineered for those who demand the very best."
The Brunswick Gold Crown V will make its 2008 debut at the World Pool Masters which takes
place from 9th to 11th May at the Riviera Hotel and Casino in Las Vegas.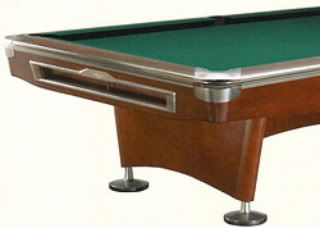 And here are some of the novel features of the Brunswick Gold Crown V billiard table, which make it my favorite pool table, friends!
terrific new styling on the same great-playing table

new corner pocket castings and apron trim provide a sleek new look

redesigned ball storage area that provides a full front facing for all 16 balls

available in 8- and 9-foot table sizes

available in mahogany or matte black finish with nickel trim; mahogany with antique bronze trim available

available Tournament Edition table featuring tighter pockets engineered to WPA specifications

and lifetime warranty!



"The Anitokid loves Brunswick!"


*Did you enjoy the post? Did you find it interesting?
You know what to do...:)