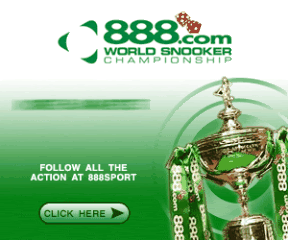 Spend a day with Ronnie O'Sullivan! Guess what, friends! 888snooker.com has launched a new trick shot competition with some amazing prizes up for grabs! To enter the contest, all you have to do is upload a video to Youtube.com of yourself doing a trick shot and submit the video's URL link here along with your contact details. That's it! No more! No less!

And these are the cool prizes that await the lucky winners!
1st Prize – A day with Ronnie O'Sullivan including coaching and the chance to interview him for the website and 888.com's own Eight Magazine.
2nd Prize – A pair of tickets to the final of the Grad Prix, UK Championship, Masters and 888.com World Snooker Championship.
3rd Prize – A signed Ronnie O'Sullivan pool cue.
And oh! Neil Robertson was there to open the competition and has uploaded his trick shot video to Youtube.com. Anyone can watch and download the video here or at this link.

By the way, entry is open to all UK residents! Hey, wait a minute! I'd love to enter, too! And I kid you not!