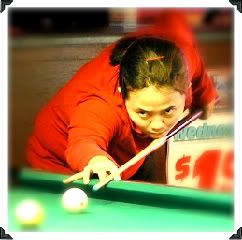 Congratulations to my good friend,

Iris Ranola

, who won the

Jacoby Cues Great Lakes Tour, 8th and final stop of the 07-08 season

at Billiards on Main in Galesburg, Illinois! Iris Ranola began her tournament with a stunning win over the tour's season points winner, Liz Lovely (7-4). The Philippine Billiards Team member also did one incredible feat – actually two - she shut out her next two opponents, i.e., Donna Ferguson and Tina Hess!
The

Filipino pool player

outdid Rachel Byrkett in the winner side final with a 7-4 score – putting her in the finals. Iris Ranola met Rachel Byrkett once for one exciting finals! Iris Ranola trounced the

billiard player

from Iowa with a 9-5 win – securing the qualifier and the $375 first prize money!
Again, congratulations Iris! A hat tip to you my friend! What a way to mark your debut in the United States! That was one awesome performance! Your win somehow reminded me of

Efren Bata Reyes

' debut in the United States at

Reds

.

And I kid you not!
Tour sponsors include Jacoby Custom Cues, Aramith Billiard Balls, Championship Cloth, Cue Cube, Bebob Publishing,
Nick Varner
Cues, Tweeten Fibre Co.,
Hampton Ridge, AZ
Billiards
, Inside English, Pool & Billiard, Billiard Digest,
Inside Pool
, and Professor Q Ball
.