Here's more information on the Predator Pro Pool School with Efren Bata Reyes, Francisco Django Bustamante, Thorsten Hohmann, and Tony Robles on May 21-22, 2008! Much thanks to Charlie Williams and Dragon Promotions for the info!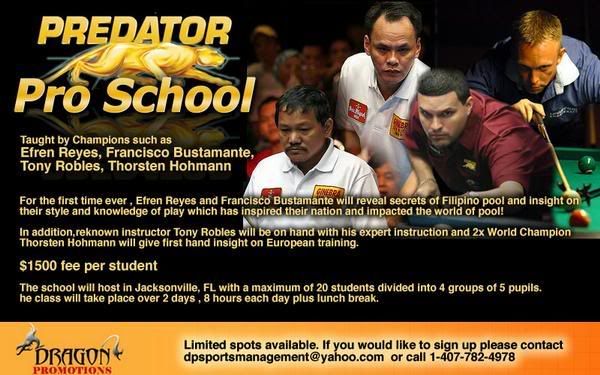 Filipino pool player Efren Bata Reyes will be working hands on with students helping them learn billiard topics he will cover. These include kicking, banking, cueball control/position play, safety play, and mental game. Francisco Django Bustamante will cover breaking, shotmaking & aiming, shot selection, and drills. Thorsten Hohmann will focus on the development of a straight stroke, jump shots, proper patterns, European Training Drills, pool health and fitness, while Tony Robles will cover perfect technique, cueball control/position play with Tony's 5-4-3-2-1 system, aiming, and drills. All billiard instructors will share one on one time and Q & A with students and also give insight on their mental game approach to billiards competition and getting better.
There will also be an exhibition by the pros after the first day of class is finished on May 21, 2008. On May 22, all the graduates from the Predator Pro Pool School will participate in a free entry 9-Ball Tournament with the champion receiving a free Predator Cue. The runner up will get a $100 gift card to use at any Billiard Factory location nationwide. Students may also try out various Predator products during the school at no cost. These include the Predator shafts, i.e., Z, Z2, 314, 314 2, the BK Break Cue 2, and the Predator Air Jump Cue. Did you know that almost 70% of the world's pros use Predator technology? Yes, they do! And I kid you not!
Jacksonville, Florida-based Top Hat Gameroom, one of Billiards Digest's 10 Pool Rooms, in Jacksonville, will be hosting this monumental event. Top Hat Gameroom is located at 616 SR 13 N Fruit Cove, FL 32259.

"The Anitokid loves learning with the pros!"


*Did you enjoy the post? Did you find it interesting?
You know what to do...:)