Roy and YoYo Billiards Club Founder, Uly
with the champion,

Vic Trinidad

aka Pacman


Congratulations to my billiards buddy, Vic Trinidad aka Pacman, for winning the June 2008 Open Tournament of the

YOung and the Young Once Billiards Club

(YoYo) at the

Hobbies of Asia

billiards hall!

Vic Trinidad bagged the

YoYo Billiards Club

championship with a scintillating win over Filling Station's

Rey Fortaleza

! Vic took home one beautiful trophy and the top prize of Php1,000!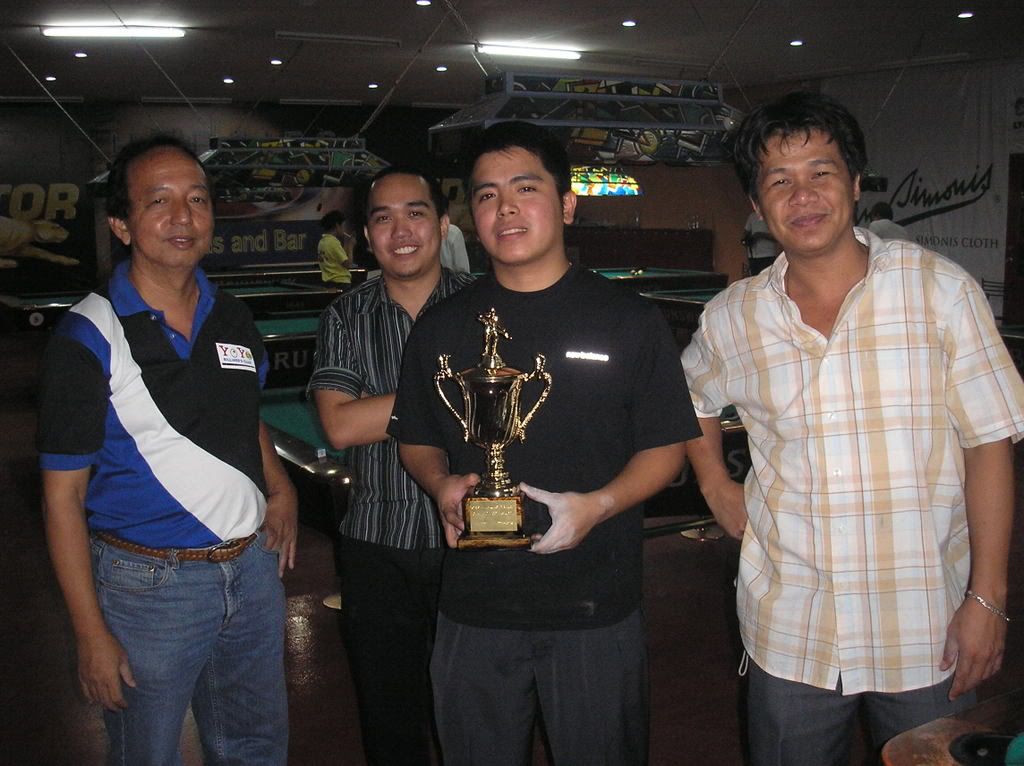 And congratulations to YoYo Billiards Club's newcomer, Brian! Brian, who made his debut at the club, won the July 5, 2008 leg of YoYo's July 2008 Open billiards competition!
Not only did Brian win the coveted championship in his initial club appearance at Hobbies of Asia, he bagged it with a perfect slate - no losses whatsoever!
And I kid you not!
Congratulations Vic and Brian!
*The YoYo Billiards Club holds it weekly and monthly 9-ball tournaments every Friday at the Hobbies of Asia billiard hall, Macapagal Avenue, Pasay City! Tour starts promptly at 9:00 PM. Come one, come all! Join the competition and experience billiards excitement to the hilt!


"The AnitoKid loves 9-ball competitions!"


*Did you enjoy the post? Did you find it interesting?
You know what to do...:)