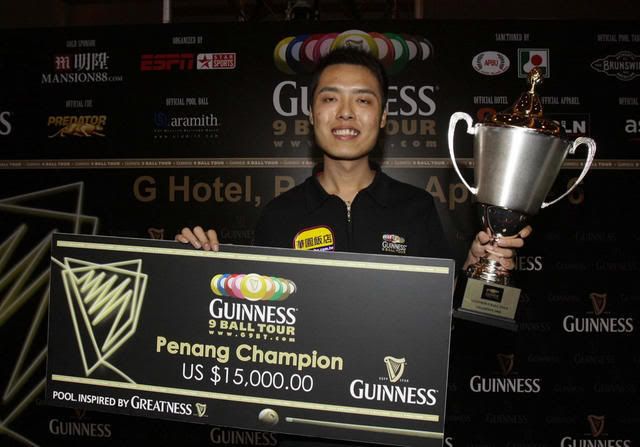 Billiards update!
From the Guinness 9 Ball Tour, Kuala Lumpur, Malaysia:


Once again, Chinese-Taipei's

Chang Jung-Lin

, makes it a hat-trick of titles as he takes down his third consecutive Guinness 9-Ball Tour title at Genting Highlands.
The Taiwanese was simply unbeatable in the finals as he muscled his way past Filipino pool player Antonio Gabica, aka Gaga, with a score of 11-6.
Chang Jung-Lin came out of the blocks like a bullet and raced to a 4-0 lead before Gabica managed to get his first rack on the board to make it 4-1.
Gaga's confidence went back up and he took down the next three racks to set it up nicely at 4-4.
The crowd was ecstatic as they rallied behind the Filipino pool player but it was all downhill from there on as the defending champion refused to allow Gaga Gabica a chance to get back in the game.
If it was a boxing match, it would have been a done deal as Chang pulverized the table and snatched the next six racks to go on the hill at 10-4.
By this time, Gaga had conceded defeat and it was more of a formality of when it will happen as the Antonio Gabica managed to hang on and take the next two racks to go 10-6.
Chang Jung-Lin had enough and on the 17th rack, he claimed his third title on this year's Guinness 9 Ball Tour.
Congratulations Chang & Gabica!
"The AnitoKid loves 9-ball!"


*Did you enjoy the post? Did you find it interesting?
You know what to do...:)