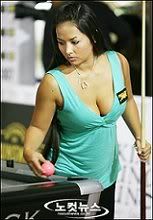 Billiards friends, pool players and fans, and dear readers, here's more info about Poison Cue's Shanelle Loraine!
Shanelle Loraine, who is one of the bright new faces of the billiards world, is an up and coming female pool player on a journey to become a world class billiards artist. Since her debut in the billiards world in Korea, Shanelle Loraine made headlines by defeating Jeanette Lee live on national television! You've read right, friends! It happened at the Dragon Promotions Women's World Pool Cup!
Shanelle Loraine then finished second place only to Ga Young Kim in the MBC ESPN Women's Ultimate Trick Shot Challenge, besting a field of players that included top players

Miyuki Sakai

, Yu Ram Cha, Isabelle Krafczyk, and Jeanette Lee. People immediately started to search for more information on this glamorous beauty from Guam – quickly becoming the most searched topic online in Korea for days!
Shanelle Loraine plays with a

Poison Arsenic Pool Cue

- the Poison AR6, and uses Poison Cues' VX 2.9 Jump Break Cue – all with the

Uni-Loc Bullet

joint. She is currently coached by Charlie Williams and Wayne Catledge of Orlando. Moreover, Shanelle has had instruction with billiards legends such as Mike Massey, Mika Immonen, and the great 3 Cushion master Semih Sayginer. And her wins against that formidable group of pool players just goes to show Shanelle Loraine is not just about good looks! She is definitely a pool player to reckon with!

And I kid you not!
"The AnitoKid loves Poison Cues
!"
*Did you enjoy the post? Did you find it interesting?
You know what to do...:)