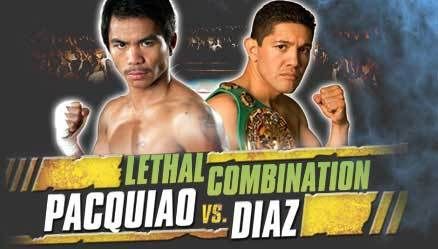 Anecdotes on the Manny Pacquiao vs. David Diaz fight held at the at the Mandalay Bay Resort and Casino on June 28, 2008.
From ABS-CBN:
Pacquiao sent a battered Diaz down the canvas 2:24 in Round 9 to snatch the WBC lightweight title, thus becoming the first Asian to win four titles in four different divisions.

Interviewed after the fight, Pacquiao said he was impressed with Diaz. "I'm very surprised. You know, Diaz, I think he's the toughest opponent that I've had...and I'm very surprised that he kept a lot of strong punches and power punches," Pacquiao said.

Asked if he will stay at lightweight, the champ said: "It depends on Bob's decision. I can fight 140 or I can fight 135 lbs." "No fight, no training in the Philippines anymore. Look at the shape he's in, look at the punches he threw," Arum added.

Before winning the lightweight title, Pacquiao won the WBC super featherweight and flyweight belts and the IBF super bantamweight crown. He also held Ring Magazine's super featherweight title.

The Filipino's date with history was unquestioned during the fight, as he outclassed a slower Diaz throughout the match.

Pacquiao was the clear aggressor starting from the opening round as he launched a vastly improved right hand against Diaz. By Round 4, Diaz already had a puffy left eye and cut on the bridge of his nose. In Round 5, his right brow was badly bleeding. In Round 6, referee Vic Drakulich had to temporarily stop the fight to have the ringside doctor check on Diaz's wound.

The Filipino's left fist sent the champ to the canvas face first. The fight ended with Diaz lying flat on the canvas.

The Filipino has been dubbed "The Mexi-cutioner" for his successive victories against Mexican fighters in his last fights. Diaz is a Mexican-American born and raised in Chicago, Illinois.
From the Inquirer:
MANNY Pacquiao summarized in the fewest possible words his battle plan when he tangles with David Diaz for the World Boxing Council lightweight crown here. "Attack agad (attack at once)," said Pacquiao. The game plan was a jab of sorts at Diaz, who is known in boxing circles as a slow starter who gets stronger as the fight progresses.
Trainer Freddie Roach, also learning from the Marquez fight, will now strictly monitor Pacquiao's food intake to prevent him from bulking up too much this time around. Roach expects Pacquiao to fight anywhere between 140 and 142 pounds.
After the weigh-in, Pacquiao, who hadn't eaten since Thursday night, feasted on ampalaya gisado, chicken adobo, kebab, tinola, and boiled eggs with slices of melon and watermelon on the side.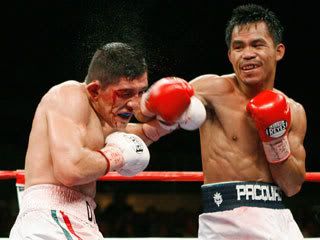 From GMA-NewsTV:
Although Manny Pacquiao is the new 135-pound champion, he's no mere lightweight. At any weight, in any ring, the Filipino phenomenon looks like the best pound-for-pound boxer in the world.

Packing five new pounds of power in his usual stunning hand speed, Pacquiao captured a title belt in his fourth weight class Saturday night (Sunday in Manila), stopping David Diaz in the ninth round to claim the WBC lightweight championship at the Mandalay Bay Events Center.

After starting his career 13 years ago at 106 pounds, Pacquiao (47-3-2, 35 KOs) has evolved into a dominant fighter in five divisions. His lightweight debut was every bit as action-packed as his long history of brawls at lower weights — and like most of his opponents, Diaz (34-2-1) couldn't keep up.

Pacquiao took much less punishment this time, but Diaz was remarkably tenacious in the face of nonstop punishment until Pacquiao sneaked home a left hand that dropped Diaz's bloody face to the canvas.

Pacquiao was relentless with his right hook, apparently capitalizing on something seen by trainer Freddie Roach in Diaz's defense.

"His punches are just too fast," Diaz told his corner after the sixth round. Diaz's face was dripping blood by then, and both fighters' white trunks were shaded pink by the eighth, when Pacquiao battered Diaz relentlessly. After finally flooring Diaz, Pacquiao tugged on Diaz's arm in support before leaping onto the ropes in celebration.

At one point, Pacquiao threw several punches to Diaz's head that had him backed up against the ropes.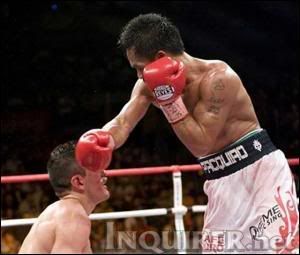 From Inquirer.net:
Jot down Manny Pacquiao's name in the pages of boxing's history book. The Filipino ring icon, effectively controlling the match with his right jab, ended David Diaz's reign with a crisp left shot to win the WBC lightweight belt via an astounding knockout.
"I was saying 'he doesn't hit that hard' and all of a sudden I was on the floor and what the heck," a gracious Diaz said. "He was f****ng fast," Diaz said. "I didn't see [the left hand] coming."
But the left hand was just part of the whole package. In a brilliant show of boxing skills all night, Pacquiao controlled the match effectively with solid, head-snapping right jabs that kept Diaz at bay.
Pacquiao got the surprise of his life after the match when the NBA champions Boston Celtics visited him at the dugout. Pacquiao had predicted the Celtics to win in six games and the world champions repaid that faith by watching the match and cheering for him.
From the Manila Bulletin:
Should Pacquiao succeed in wresting the title from Diaz, he will do what the late-great Flash Elorde and four other Filipino punchers before him failed to achieve. Elorde had two cracks at Carlos Ortiz's lightweight championship in 1964 (Manila) and 1966 (New York) and in both times, Elorde, a legendary 130-lb titleholder like Pacquiao, lost by 14th-round knockout.
"Manny will win by knockout this time," said former Ilocos Sur Gov. Luis "Chavit" Singson, a familiar face in Pacquiao's last few fights in the US. "If Diaz doesn't run, Manny will surely knock him out."
"I met Manny last night and I could sense that he is very prepared physically, psychologically, and spiritually," said former Manila mayor and current Environment Secretary Lito Atienza. "I would predict that it's going to be a knockout win."
Feng shui expert sees Pacquiao win in today's fight
It may not be a walk in the park for the People's Champ Manny "Pacman" Pacquiao, but he will be the hands-down victor in today's fight." This is the assessment of Manila-based Singaporean feng shui expert Henry Ongon on the eve of Pacquiao's title fight with Mexican-American southpaw David Diaz.
The feng shui master added although 2008 is not a good year for Pacquiao, l he predicts that the Pinoy champ will score a triumph over his rival because June is a lucky month for him. Added to this is that he has the charm and pointers to upset the odds against him in his zodiac.
"Pacquiao was born in the year of the horse (December, 1978) and as a Fire Horse, Pacquiao is ever active. He will work tirelessly until all his projects are complete, but only if the deadline is his own. Pacquiao has a lightning mind and can sum up people and situations in an instant, sometimes too quickly and he will move on before seeing the whole picture," Ong said.
"Aside from giving him a tai sui coin and a five-element pagoda that would both work to heal Pacquiao's afflicted animal sign, I have also informed him about the propitious positioning of his appliances in house and the color of clothes he should wear," Ong added.
"I am picking Pacquiao to win by unanamous decision. Pacquiao is more explosive and much quicker then Diaz. Diaz is a tough guy who is not the most skilled and has nothing to lose and everything to gain in this fight. There is a chance Pacquiao can stop him but we will have to see how his power carries up to lightweight," boxing fan Matt Yanofsky said.
With the zodiac odds against him (he is a Horse in the Year of the Rat), Pacquiao sought the help of Ong and the fen shuimaster told him he should now be careful in following his own will because it would be detrimental to his pursuit of success.
The People's Champ will be wearing green, blue, yellow, or black as his zodiac adviser has advised. He will be positioning himself facing east and southeast to overshadow his opponent.
With all these in place, Pacquiao, who is now eyeing a fourth championship in a fourth different division, the fight is a "dream fight" on account of he and Diaz having the same boxing style.



Other interesting reads
Manny Pacquiao Wins Lightweight Championship

Manny Pacquiao vs. David Diaz Live on the Internet
Pacquiao vs. Diaz: Glory & Immortality
Towards David Diaz & Oscar dela Hoya

"The AnitoKid loves boxing!
"
*Did you enjoy the post? Did you find it interesting?
You know what to do...:)