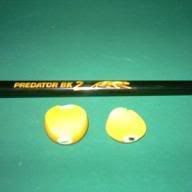 I have had about 7 of these Predator BK2 break cues and they are awesome
but i always let someone make me an offer i cant refuse and poof
no more BK2 till the next one!


I once broke a 1 ball on the break with a Predator BK2 and took some pictures
of the broken 1 ball and sent them to Philip or what ever his name is at

Predator

. He emailed me back asking if he could use the picture? I said sure you can and he sent me a z2 shaft a Predator polo shirt and a hat.
At bottom of the invoice under price it said > Sponsorship.
Boy did i have the big head for awhile!
More
interesting reads
here, friends!
"The AnitoKid loves Predator!"


*Did you enjoy the post? Did you find it interesting?
You know what to do...:)