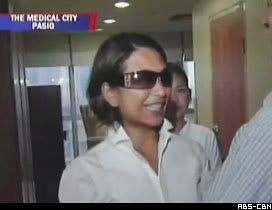 The prayers of millions were answered! ABS-CBN senior correspondent Ces Drilon, her cameraman Jimmy Encarnacion, and peace advocate Professor Octavio Dinampo were finally released by their captors! The kidnappers earlier released ABS-CBN assistant cameraman Angelo Valderama (June 12, 2008).
The nine-day ordeal at the hands of their armed captors was an eye-opening experience for Ces Drillon, particularly since some of their abductors were minors. Around 20 were involved in the kidnapping of the ABS-CBN news team and their guide. According to Ces Drilon,
"While we condemn what the group has done to us it also opened our eyes why they are that way. Not that we sympathize, [but] there is a kind of environment that makes them thrive. I hope the country will focus on that," the veteran broadcast journalist said. And though what the kidnappers did to them was unjustified, Drilon added there is a need to ask why they are engaged in that kind of activity.
"May humahawak ng baril na 12-years-old lang. Mayroong 17, may 15 so parang mamumulat din ang mata mo. Mapapagisip ka pa din kung bakit itong mga batang ito imbis na notebook at papel, nag-aaral, bakit baril ang hawak hawak nila?" said Drilon.
Later, ABS-CBN's Ces Drilon was moved to tears when she remembered the ordeal that her family had to go through with their kidnapping. And to quote,
"I always go after a story sometimes not thinking of my loved ones, my mom, my kids. I guess kailangang maisip ko din na may nagmamahal sa akin at nasasaktan sila. It was so irresponsible in a way to do that to my children and my mother, my sisters and brother too to put them that ordeal like that," she said.
After the arduous and very difficult nine days in captivity, I can't blame Ces Drilon for wishing to spend some quiet and private time with her family. To Ces and Jimmy, take all the time you want guys! Family comes first – always! And I kid you not!