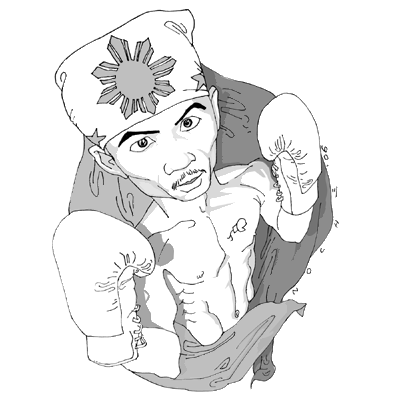 "The Manny Pacquaio Peace Talks, which began Saturday morning in Los Angeles, California, with representatives of Golden Boy Promotions and Top Rank sitting across the table from each other in a court-ordered mediation, seem to be making significant progress. So much so that TR and GBP agreed to

resume

their discussions on Monday morning.

Those close to the situation are saying that there has been some talk of the two giant promotional companies "sharing" rights to Pacman bouts.

GBP and Top Rank started talking with a mediator "refereeing" about 9:30 am PDT. took a lunch break, and then held an afternoon session with concluded just before 6 pm PDT.

I spoke briefly with Top Rank CEO Bob Arum as the parties wrapped up their fist day of trying to hash out a settlement which will prevent their fight over the promotional rights to Filipino ring icon Manny Pacquaio going to a full-blown trial in federal court in LA.



"I can't talk right now," Arum said, "but we are done for the day. Mediation will continue on Monday. That's all I can say at this time."




Boy! Oh boy! Golden Boy Promotions and Top Rank are knocking their heads off in this legal war to secure promotional rights to the fights of Philippine boxing sensation, Manny Pacquiao aka The Pacman. And rightfully so! Manny is the best pugilist out there, pound-for-pound, bringing pure excitement to the squared circle. And when there is excitement in boxing, money follows. As I understand it, should nothing come out of the
mediation, the case stemming from The Pacman's signing of promotional contracts with both Top Rank and Golden Boy will continue. However, a settlement will open up a number of doors for Manny. The sharing scheme could set Pacquiao for more lucrative deals in his already illustrious career, which include the much anticipated rematch with Marco Antonio Barrera and Juan Manuel Marquez! Indeed, our Manny is in for a busy schedule in the next couple of years! And I kid you not!