My friends, you know how much I love icons, buttons, patches, and widgets. Guess what, I have just received approval to host the DOST-SEI icon in my site - even though I am not a DOST-SEI alumni or a scholar during college!

I browsed the DOST-SEI site, logged on and registered. A specific question that came to light before I was approved for the site registration concerns the meaning of SEI and explaining it in Filipino. I answered it in a different fashion - With all Heart.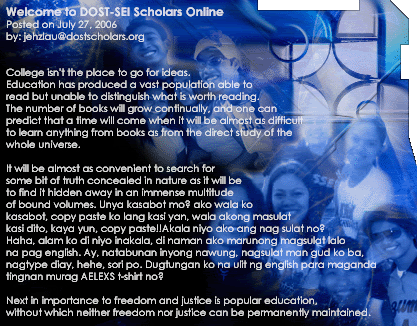 And from the bottom of the A-Kid's heart, my sincerest thanks to all DOST-SEI scholars, particularly my friends over at Jezhlau Concepts and Itanong Mo Kay Jemme, who took the initiative to make this possible. Much thanks kabayans! Much thanks!



Mabuhay ang DOST-SEI bloggers!

Mabuhay ang Filipino Bloggers!