Billiards

buddies and

pool players

, the Bacolod leg of the

Fir
st Senate President Manny Villar Cup

has come to a close! And it's

Rodolfo Luat

, aka Boy Samson, as the champion of champions!
Congratulations to my good friend, Rodolfo Luat, for winning the much-coveted championship! Boy Samson, who plays for the Negros Billiard Stable of Mr. Jonathan Sy, and

Diveney Cues,

custom made by one of the USA's great cuemakers,

Pat Diveney

, squared off another NBS player, Ramil "Bebeng" Gallego.

Final score 13-10!





Some highlights, friends!





It won't be a cinch, because Rodolfo Luat don't flinch!

Knowing that Ramil Gallego had the hometown advantage, Rodolfo Luat, aka Boy Samson, summoned all his herculean might and took an early 6-0 lead! Yes, you've read right, friends!

A 6-0 lead!



Sensing danger and all, Bebeng Gallego called for a time out. And a timely one at that! Bebeng closed in with a 6-2 run – making it an anybody's game at 8-6! This was further reduced to a one-rack lead, 9-8, with Gallego now having the chance to tie the score in the 18th rack. However, a miss on the 5-ball gave Luat, one of Pampanga's favorite sons, a 2-point advantage.

Rodolfo Luat made a golden break in one of the game's crucial moments, 11-8, to make it a 4 rack lead (12-8). However, a scratch on the break saw Ramil Gallego back on the table again. A run-out from saw the score tilt to

12-9

- only a 3 rack lead for Luat! It's anybody's game, everyone!

The next rack saw Bebeng Gallego breaking and sinking the 1, 2 and 6! There was no clear shot on the 3-ball, thus, he opted for a push-out. Rudy took the shot for a safety, which was then countered by Bebeng. After looking at the table for some time, Luat unleashed an amazing shot on the 3 - pocketing it - to the delight of the crowd! Wow!

The 50-year-old phenom from Pampanga then opted for a safety on the 4-ball. However, Bebeng managed to pocket it and was left with just 4 balls on the table, which he easily made and all!

Score: 12-10!


It's a dry break for the 42-year-old Gallego! Truth be told, Rodolfo Luat will win this! Rudy pocketed the first seven balls! He then asked for a glass of water before deciding to shoot the remaining last two balls on the table! This had the crowd roaring with glee and all! It's pure excitement for everyone!

Rodolfo then pocketed the 8! Then the 9! All for the championship

-

and the cool

$15,000 prize!



Other players who succumbed to the intense pool play of Rodolfo Luat include World No. 1 Dennis Orcollo (11-8), world 9-ball and 8-ball champion Ronnie Alcano (11-6), Cebu Leg winner Gandy Valle (11-9), and Michael Feliciano (11-7).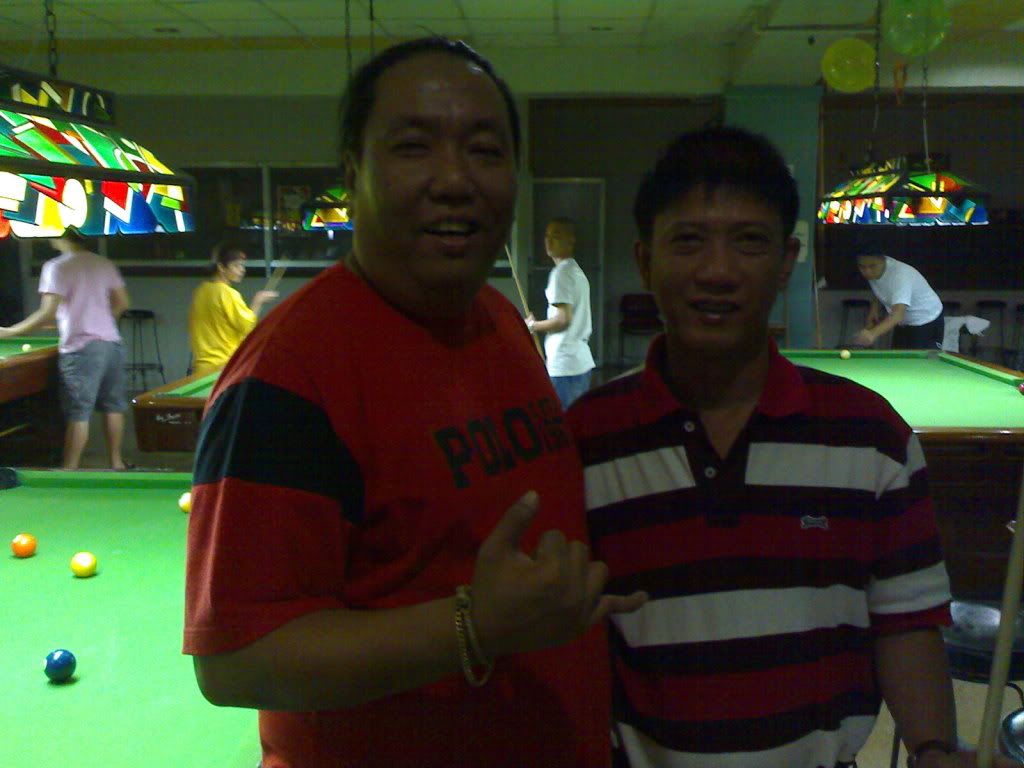 Matibay ka talaga, Boy! I never doubted your abilities and all, my good friend! No doubt! No fear! None, whatsoever!
It won't be a cinch because you don't flinch!
Remember the talk we had before you left for Bacolod? What did I tell you? Ha ha ha! Truth be told, you the man, Boy! I am proud of you, pare ko! We are all proud! And oh! Our good friend, Pat (Diveney Cues) sends his congratulations!


*Much thanks to my very good friend, Coach

Edgard "Boyet" Asonto

for helping me with the real-time updates! Kudos to you, Coach!