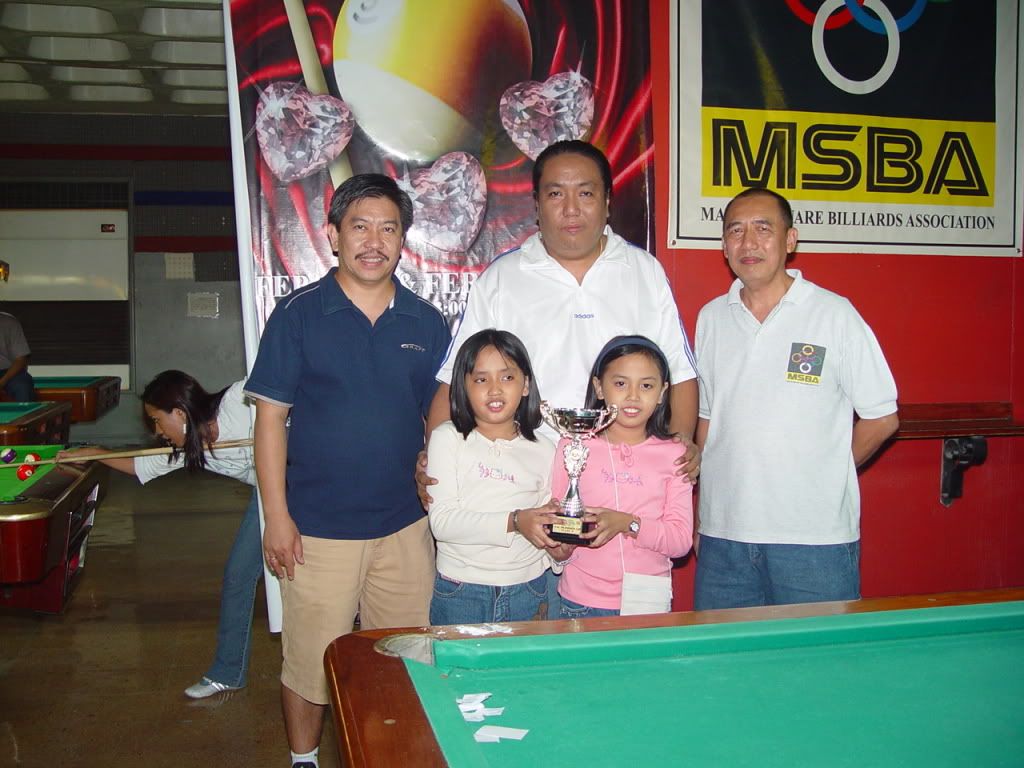 Billiards
buddies and
pool players
, here is the entry that I submitted to a writing contest sponsored by John Barton, inventor of the
Instroke
line of cue cases and CEO of
JB Cue Cases
.

The theme of the writing contest, featured at

AZ Billiards

, is "

Why You Play Pool

." Everyone who gets in the contest is eligible to win a Jay Flowers style 1x2 case, while the most creative answer will win a case of one's choice in size, style, and color.

Truth be told, my entry made it to the winners list, friends!

And I kid you not!




To John,
Thank you very much for the generosity, kindness, and coolness! And more thank you's for the very nice surprise! I really appreciate it! And I kid you not!

Again, much thanks John! And more power to you, your company, and your passion! And more thank you's to your friends and family members who served as the judges! Thank you very much!


The Sport Has Been Very Good To Me!

This is going to be one long story! :)

Four years ago (2004), I was arranging the trophies and countless medals that my beautiful kids have garnered in school. Truth be told, I love arranging and cleaning them on my own. Looking at them is like staring at an aquarium - relaxing and all.

As I was arranging my children's achievements, I got this idea of inspiring them to also do good in sports. But how? Honestly, I had no idea then.

After about a week, I found myself inside the Makati Cinema Square mall in Makati City. One of the companies that I work for decided to initiate an annual sports fest, and I found myself competing in billiards!

And I instantly fell in love with the game at first stroke! And I kid you not! Though I failed to score a respectable finish, I knew I have found the sport of my life. And it hit me! I can possibly excel in it, too!

I spent my first month playing almost everyday (Mondays to Saturdays). And there were more losses than wins! I spent hours practicing alone, and hours playing with friends, but still more losses than wins!

I decided to get pool lessons. However, it didn't turn out too well. The instructor showed up for my first two lessons - and that was it. He was a no-show after the first two lessons, particularly after paying in full for the entire module he supposedly designed for me (about 10 lessons).

I knew I've been had, but I let it go. The so-called instructor may have had his reasons for cheating me. And that was that for me.

Still, more losses than wins for the next few days. :(

Then one of my billiard buddies introduced me to one of the instructors of

Pool Players Academy

(PPA). He saw my

Predator P2

- (I was actually the first one at the club to have one). He asked if he could play with it - and I readily obliged.

After shooting with my P2, he asked, "That's one hell of a cue! I love it! And you're new into the game, you said? And yet, you bought yourself a P2!" I replied, "I just want to have the best equipment and take out one variable in winning. No excuses on why I missed or will miss - it will all be about me and my skill, not the equipment."

And the conversation led to my being his student. I didn't haggle with his fees - i just asked one thing from him - "Make me a better player. I will try to absorb and comprehend all your teachings - all to the best of my abilities. I only ask one thing from you, please help me become the best player I can be."

I took up one lesson once a for week. 10 lessons make up each module, and there are 3 modules under PPA. I wished I could have taken 2-3 lessons per week but my work sched did not allow me to do such.

On my 5th week under PPA, I found myself playing in the finals of a 9-ball competition of the

Makati Square Billiards Association

!

My friends from the two offices that I work at were there - cheering me on. My new-found billiards pal were also there, encouraging me. And most importantly, my two beautiful daughters - My Closeness - were there - inspiring me to be at my best - the best I could be that day!

I won my very first trophy in less than 4 months of playing billiards (just 4 weeks of being under the PPA)! And I won it playing one class higher, too! And lest I forget, I won it with My Closeness watching - intently. My Closeness clapping silently each time I pocket a shot! And clapping loudly each time I won a rack! And I kid you not!

Indeed, the sport that i have learned to love has loved me back and more! It has been very good to me and continues to be so in more ways than one! And my love for the sport has turned into a passion that I hope, and pray, I may be able to channel and put into good use. Someday. Somehow.




AnitoKid




P.S.

My beautiful children have added to their achievements sports medals and trophies. Some notable wins include:

My eldest daughter, Agi, holds the distinction of being her school's first-ever ping-pong champion, and 1st runner-up in badminton!

My twins, Levin and Kevin, are very good in playing chess – both have placed 1st in their school's chess competitions!

*Edit for pic info:

Pictured above is the very first sports trophy I have ever won in my life. With me are My Closeness, Agi & Patis, who received the trophy on my behalf; :) Lito de Castro (who has become one of my closest friends in billiards. He is also my money game, winner-take-all, and tournament sponsor (Lito is now the able president of the Makati Pool Players Association); and last, but not the least, is

Jun Diamante

, then president of MSBA.





"Billiards is cool with The AnitoKid!"


*Did you enjoy the post? Did you find it interesting?
You know what to do...:)