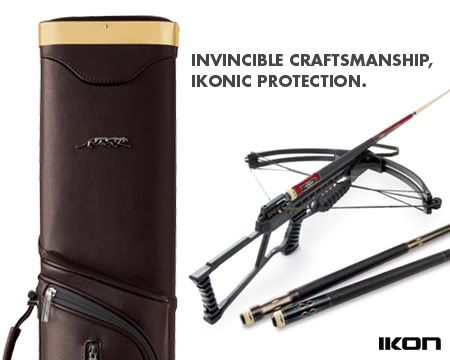 Billiards

buddies and pool players, guess what! The Predator Ikon 2x4

case

has just landed!

And I kid you not!



Introducing the new Ikon 2x4 case – beautifully constructed in brown and gold for a timeless yet striking appearance! Want to play like a god? Then you better look the part!

Truth be told, when you play like a god, you need a case of Ikonic stature!.

More details on the beautiful Predator Ikon case:


Brown Vinyl $279
Gold coated accents
Predator Cat Design Elements

Molded pockets for the Predator Air

Centered strap and non-slip shoulder-pad

Case weighs 6.35 lbs (2.88 kilos)

When you sheathe your arsenal in this handsomely designed case, you know your cues will always be protected and prepared for victory! Awesome!



"The AnitoKid loves Predator technology!"


*Did you enjoy the post? Did you find it interesting?
You know what to do...:)