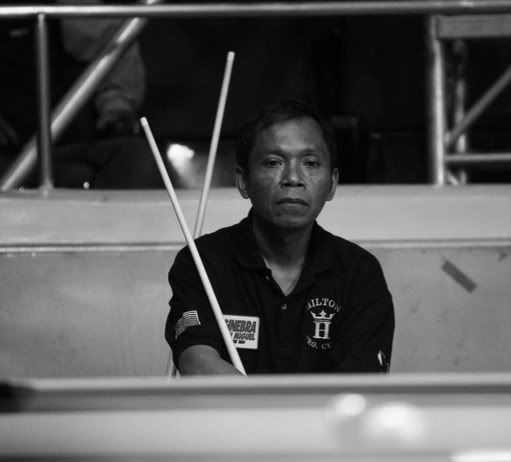 Billiards

buddies and

pool players

, guess what!

Leonardo Andam

and

Shawn Toni

shared the championship of the Thanksgiving 9-Ball Open held at Big Daddy's Billiards!

The $100 added, $30 entry event was held on November 27, 2008, at 7954 Baltimore Annapolis Blvd. Suite 2-G in Glen Burnie, Maryland. It drew a total field of 26 players, including Shaun Wilkie, Mad Max, Kia Sidbury, Maxine Mead, Jamie Hodges, Nicole Fleming, Anita Thompson, and Steve Fleming.

The billiards event started with match-ups between players such as Leonardo Andam, aka The Rattlesnake, and Frank Wojciechowski. Dodong Andam had a very impressive run off the field and was in the hot-seat early on!

And I kid you not!

Shawn Toni bested everyone to enter the final round competition to eran the right to face the Filipino pool player in the finals.

Both players decided to split the final prize instead of playing out the finals.

Congratulations to Leonardo Andam and Shawn Toni! Mabuhay!





"Connect with The AnitoKid!"


*Did you enjoy the post? Did you find it interesting?
You know what to do...:)