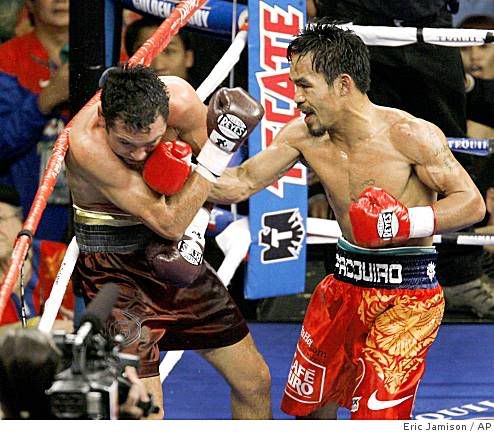 Congratulations Manny "Pacman" Pacquiao!

Manny Pacquiao

, the finest fighter in the world today battered

Oscar dela Hoya

, aka The Golden Boy, into oblivion via a one-sided win in their welterweight fight at the MGM Grand Garden! Pacquiao did not just beat dela Hoya. He annihilated him! Punished him! Destroyed him! Made him quit!

I have followed the boxing scene since my childhood and never have I seen one like Manny Pacquiao! Actually, there is another one -

Mike Tyson

. As hard as it is to believe, Pacman is one enormous talent who continues to get bigger and better! Pacquiao mercilessly pounded dela Hoya, the 1992 Olympic gold-medal winner and a professional world champion in six weight classes, with every legit punch in the book!

The Golden Boy

dela Hoya never took such a beating before! Straight lefts, hooks, jabs, and uppercuts – lightning fast and thunderous – were the order of the day! Indeed, Manny Pacquiao was too quick! Pacman was too strong! The Pambansang Kamao was too tough! Simply put - Manny Pacquiao is phenomenal!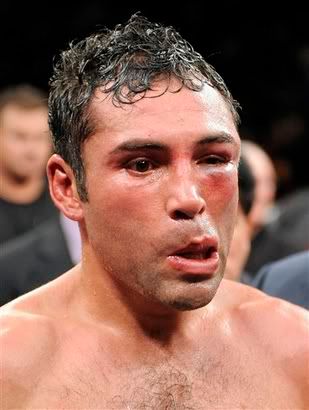 I predicted that if the 10-time World Champion, Oscar dela Hoya, fails to take out Manny Pacquiao in the first five rounds, Manny will win the 7th or 8th. And technically, there was no Round 9! When the bell rang to start the 9th round, Pacquiao came off his corner but dela Hoya remained seated with his corner waving off the Filipino pugilist, telling the referee, Tony Weeks, that the Golden Boy has had enough already!

And to those who still doubt whether or not Manny Pacquiao deserves the top honors in the pound-for-pound race, watch the rerun of the Dream Match and know! Know that there is no doubt whatsoever!

And I kid you not!




*Did you know that Manny Pacquiao was a 2-1 underdog in the fight? Yes, he was, friends! This was due to the fact that Manny was challenging a man who had fought at super welterweight or middleweight exclusively for the last 7.5 years! Truth be told, Pacquiao had only fought once as high as lightweight and had fought 75% of his bouts before the Dream Match at super bantamweight or lower! What Manny had just accomplished? Immortality!




Congratulations Manny! Mabuhay!
Other interesting reads
*Jinkee Pacquiao
*Pacquiao vs. dela Hoya: Training
*Dream Match Updates
*Oscar dela Hoya
*Superfight of all Fights
"The AnitoKid loves Manny Pacquiao!"


*Did you enjoy the post? Did you find it interesting?
You know what to do...:)