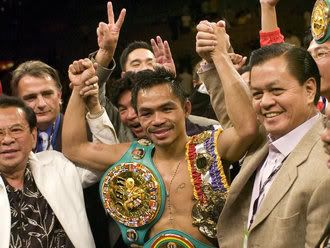 Oscar dela Hoya vs. Manny Pacquiao: An update!
I just saw this interesting read from one of the sites I visit. It focuses on the possible fight between Oscar dela Hoya and Filipino boxer Manny Pacquiao.
It is an interesting read. And I kid you not!

From Sportlife.com:
Promoter Bob Arum reportedly says a superfight with Oscar De La Hoya is Plan A for Manny Pacquiao.
Talk of a huge showdown between probably the two biggest names in boxing right now has gathered pace in recent weeks, despite the big weight difference between the pair.
But Pacquiao stepped impressively up to lightweight to wrest the WBC strap from David Diaz recently, and a match against De La Hoya at welterweight is now a big possibility.
De La Hoya says he'll have one more fight on December 6 before calling time on a glittering ring career.
And it's looking increasingly probable that Pacman will be in the opposing corner.
Arum, interviewed by the Manila Bulletin confirmed that a December clash with the 'Golden Boy' is "Plan A".
He added: "I spent quite some time with Manny today. Soto and Valero are Plans B and C. If the De La Hoya fight doesn't happen, we will talk about Soto or Valero."
A-Kid:
I have said it before, and I will say it again – I can't wait for the
Oscar dela Hoya vs. Manny Pacquiao
fight to materialize!
"The AnitoKid supports boxing!
"
*Did you enjoy the post? Did you find it interesting?
You know what to do...:)