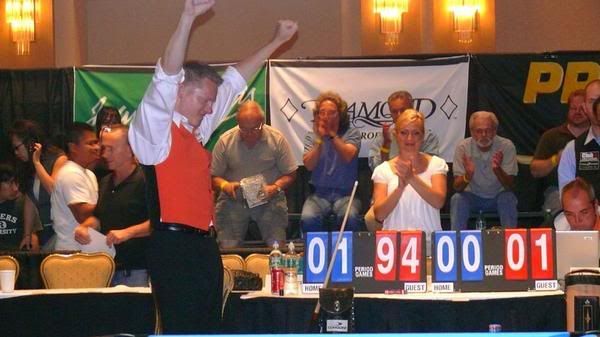 Congratulations to

Niels Feijen

for winning the 2008

Predator World 14.1 Straightpool Championship

! Feijen, aka The Terminator, fought for the championship against a strong field of 63 other players, coming on top, and being undefeated in the competition –13 straight matches and pocketing over 1600 balls!

Niels Feijen and

Francisco Django Bustamante

battled it out in the finals of the prestigious 2008 Predator World 14.1 Straightpool Championship. 'Twas like the Philippines vs. The Netherlands – The Terminator with four European 14.1 titles under his belt against Django's more than 30 major titles, but none of them in straight pool. For those not in the know, this is Francisco Bustamante's international debut in straightpool championship. And I kid you not!


Highlights of the finals:

Francisco Django Bustamante erred early on and let Niels Feijen take a forty ball lead. The Filipino pool player from Puyat Sports missed in his first open shot, a seemingly easy ball. Later as Niels missed leading 80-0, and Django took a break and left saying, "Niels is playing good, but don't worry I will come back and run 200," Bustamante said with a smile.

On his return, Django Bustamante had an easier shot and easier table but misjudged the shot and missed. Niels Feijen then extended his lead to 189 balls before missing an easy shot. Bustamante made his first shot to the cheers from the audience and went on to make a great 3-way combo.

However, Django missed another easy shot and conceded the match to Neils, 200-11.

Niels Feijen not only has won his first World Championship title, but also brought his home country, The Netherlands, its first pocket billiards World Championship! The Terminator's name will be inscribed in the World 14.1 Championship cup, together with the other greats of billiards, e.g., De Oro, Greenleaf, Mosconi, Caras, Lassiter, Sigel, Mizerak, and Hohmann.


N.B.
Thorsten Hohmann won the High Run Award for the second time with his 150 and out against Ralf Souquet. He wins an additional $1000 from Dr. Louis Pannullo, the sponsor of the award.

Jasmin Ouschan now holds the record for highest placing woman in a men's pro championship ever in pool's 130 year history of championship play. Ouschan also holds the top two high run records set by a woman with a 90 and 84.

The 2008 Predator World Straight Pool Championship is proudly sponsored by Dr. Michael Fedak of NYC, Joel Schapiro of NYC, Diamond Billiard Products, Aramith Balls, Simonis Cloth, and the Predator Group.

*Much thanks to my good friend, Charlie Williams, of www.dragonpromotions.com for the day-to-day info on the event. And more thanks go to Wei Chao of www.cuetable.com for the pictures! All the best!

Congratulations Niels for winning the championship! And congratulations to Django for his impressive international debut in straightpool! Mabuhay!

"Be impressive! Be with The AnitoKid
!"
*Did you enjoy the post? Did you find it interesting?
You know what to do...:)